The Hot Book of the Week at The Poisoned Pen is James Church's The Gentleman from Japan.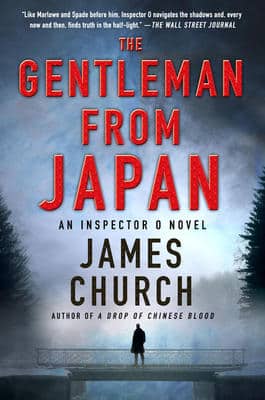 Of course you can order a signed copy through the Web Store. https://bit.ly/2gHED3C
Here's the summary of the book.
James Church, a former Western intelligence officer, returns to the secret world of North Korean intelligence with another crackling good" (The Washington Post) story in his critically acclaimed Inspector O series.
Under the guise of machinery for making dumplings, a Spanish factory near Barcelona is secretly producing a key component in the production of nuclear weapons. When information finds its way to the inboxes of Western intelligence agencies that this "dumpling maker" is meant for North Korea, orders go out that the shipment must be stopped. Either the machine must be disabled while still in the factory, or the transportation route must be discovered so the equipment can be intercepted before itreaches its destination. An old friend recruits Inspector O to assist in the complex operation designed to disrupt the plans for shipping the machine.
Carefully planted bits of information and bizarre events have led both the Spanish factory and those trying to intercept the machine to conclude that Japanese criminal organizations are involved in buying and transporting the "dumpling" machine in order to hide the involvement of North Korea. A flurry of murders puts the focus on the northeast Chinese city of Yanji, near the border with North Korea, where O's nephew Major Bing is the Chief of State Security. Bing has his own problems dealingwith a corrupt local mayor who is out for his head, coping with a new deputy who cannot be trusted, and figuring out why a Chinese gangster he's worked for years to chase away has suddenly returned.
Church – hailed as "the equal of le Carre" by Publishers Weekly – takes O deep into a maze of cracked mirrors that hide the exits from an elaborate, deadly double blind in his most elaborate mystery yet, The Gentleman from Japan.