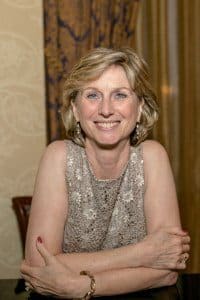 Mary Miley is the author of three historical mysteries set in the Roaring Twenties. The third in the series, Renting Silence, was just released in the U.S. The books feature Hollywood "script girl" Jessie Beckett. Mary summarizes the book. "This latest book takes Jessie from silent films back into the world of vaudeville to track down a performer with something to hide. At the request of her silent film star boss, Mary Pickford, Jessie uses her vaudeville talents the investigate the murder of an extra by a Hollywood actress already sentenced to death for the crime. Her inquiries lead to the discovery of a blackmailer and more than a dozen actors facing ruin or even death if their secrets are exposed. If the convicted actress is innocent, then who killed the blackmailer?"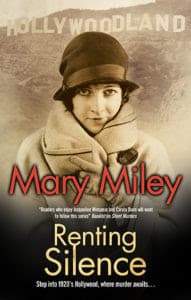 You can find out more about Mary Miley at her website, https://marymileytheobald.com. And, we can order Renting Silence and Miley's other Roaring Twenties mysteries through the Web Store. https://bit.ly/2h4bxw7
Mary responded when I asked mystery authors to tell me about their favorite mysteries of 2016. She picked two.
"I write historical mysteries because I love reading historical mysteries, so it is no surprise that I'm blogging today about two of my favorite historical mysteries that were published this year."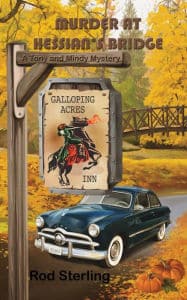 1.
MURDER AT HESSIAN'S BRIDGE
by Rod Sterling, published by Silver Leaf Books. 
A paratrooper hero of D-Day survives the war in one piece only to be beheaded by evil spirits in his home town – or was he? While being initiated into a secret society, George Panabaker must spend the night on a so-called haunted bridge. The next morning his body is identified only by the Airborne tattoo on his arm because his head is missing. The locals hush it up to avoid negative publicity. So it's up to George's paratrooper buddy, private detective Tony Donohoo, to get to the bottom of the story. With the aid of his sexy, mouthy, red-haired girlfriend, Mindy McCall, he unravels the mystery.
This is the third in Sterling's series set in New Jersey in the 1950s. Since the author is a former investigator who worked in New Jersey in the 1950s, the story reeks of authenticity, with many of the details borrowed from his own experiences. Readers who grew up during the Fifties will delight in the subtle references to people, movies, food, and clothing of the era; those for whom the Fifties are ancient history will get a kick out of Sterling's fresh voice and off-beat sense of humor.
MURDER AT HESSIAN'S BRIDGE
is a romp back in time.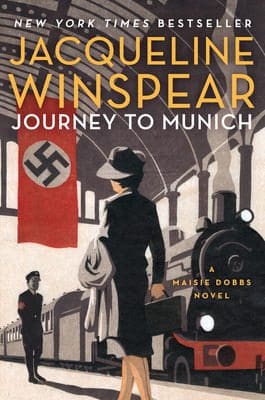 2. JOURNEY TO MUNICH by Jacqueline Winspear, published by Harper. Maisie Dobbs goes undercover for the British Secret Service to escort an elderly British citizen home. On the surface of it, not a particularly difficult an assignment . . . but of course, nothing is as simple as it seems. Mystery readers love a series where they can really come to know the characters, and Winspear's Maisie Dobbs is one of the best. This is Winspear's 12th book, set in 1938 in Hitler's Germany just before the outbreak of World War II. The author capably portrays the tension in pre-war Europe while delivering what I would call a spy story more than a traditional mystery. My suggestion to readers is to begin at the beginning of the series—and not as I did, in the middle—so the characters and overarching plot will be clear.