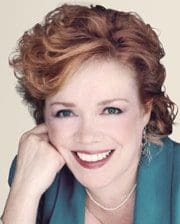 Jane Cleland, author of Glow of Death, is actually here at The Poisoned Pen for two events on Saturday, December 10. She's hosting a writer's workshop from noon to 2 PM, and she and author Ellen Crosby are signing books at the Champagne Christmas Party at 2 that day. Before she is caught up in the book tour whirl, I caught up with Jane for an "In the Hot Seat" interview.
Jane, would you introduce yourself to readers?
Sure…. hello! I'm Jane Cleland, the author of the Josie Prescott Antiques Mysteries, now eleven strong. (Glow of Death came out this past November.) Josie is an antiques appraiser who uses her knowledge of antiques to solve crimes. The books are often reviewed as an Antiques Roadshow for mystery fans. One of the Josie short stories, "Killing Time," is available on my website if any of your readers want to give Josie a whirl to see if she's their cup of tea!
I am also a teacher of writing. I'm a member of the fulltime faculty at Lehman College, part of the City University of New York system (CUNY). In line with my teaching efforts, I wrote a book about the craft called Mastering Suspense, Structure & Plot, which seems to resonate with new and expert writers alike. I'm thrilled about that!
In addition, I chair the Black Orchid Novella Award (BONA, www.nerowolfe.org) given by the Wolfe Pack, the literary society that celebrates all things Nero Wolfe, Rex Stout's legendary detective, in partnership with Alfred Hitchcock Mystery Magazine.
I'm married, and I live in New York City.
I've been impressed with the changes in Josie Prescott in the course of the series. Would you introduce her?
Thank you! Right out of college, Josie landed a plum of a job at Frisco's, one of the biggest and most important antiques auction houses in the world. A few years later, she got caught up in a major price-fixing scandal. (People went to jail… this actually happened, by the way. It involved Christie's and Sotheby's. Everything else I'm telling you is fiction!)
Josie was the whistle blower. She thought she'd be honored for doing the right thing. Instead, she was shunned by her so-called friends, hounded by the press, and eventually, she lost her job "for not being a team player."
Then her much-loved father died, and two weeks after that, her boyfriend at the time (who is always and only referred to as Rick the Cretin) dumps her, saying she's gotten to be a total downer. Can you imagine?
Josie lives by her father's precepts, one of which says that when you feel as if you're at the end of your rope, tie a knot and hang on, and if you can't hang on, move on. Josie lasted about a year, and then she moved on. She moved from New York City to Rocky Point, New Hampshire, and opened her own business, Prescott's Antiques & Auctions.
Her company runs monthly themed, high-end auctions and a weekly tag sale. Her business is doing well, and growing at a good clip. Since her boyfriend, Ty Alverez, a training guru for Homeland Security, might get a promotion and therefore, they'd need to relocate to Washington D.C., Josie is positioning her company to expand—maybe she'll open a second location in Georgetown.
At first, Josie was reeling from her losses. Over time, though, she's found friends she cherishes and a man she adores.
Without spoilers, tell us about Glow of Death.
Glow of Death, the 11th Josie Prescott Antiques Mystery (from St. Martin's Minotaur), tells the tale of rare Tiffany lamps, broken dreams, and betrayal.
Josie is called in by Edwin and Ava Towson to appraise a purported Tiffany lamp, and to her delight, she is able to report that it is genuine. Within days, Ava is murdered, and when Josie is asked to identify the body, she's realizes she's been snookered—she's never met the real Ava Towson, now dead. Kirkus wrote: "An antiques appraiser get scammed, gets mad, and gets even… A cozy replete with antiques lore, likable characters, and a more complex mystery than usual."
You and Josie have both worked in the antiques world. What was your favorite antique in the course of the series, and the story behind it?
I've enjoyed researching many of the antiques I've written about including a rare Chinese vase (Killer Keepsakes) and Fabregé eggs (Blood Rubies), but my favorite is probably the art stolen by the Nazis (Consigned to Death).
I owned a rare book store back in the 80s. One day I went to a woman's house to look at her books; she was thinking of selling them. I was 28 and to me, she seemed old. Seventy or more. As an aside, I will mention that once I hit my fifties, seventy doesn't seem the least bit old to me! In any event… on that day back in the mid-80s, this woman led me through her house to the study… I've never seen so many paintings in one place in my life, museums included. Every inch of wall space in the entry hall, the living room, even in the hallway, was covered. Don't misunderstand—the paintings weren't artfully arranged… they were wedged in. As I passed by, I recognized what I assumed were reproductions—a Matisee, a Monet, a Cezanne. We turned a corner and boom, there was the most beautiful painting… I couldn't believe my eyes. It was a Rembrandt self portrait. I gasped and exclaimed… suddenly realizing that it must be real. No way could those tones and that brushwork be a reproduction. And if it was real… was it possible that they all were real?
"It's gorgeous," I said.
"Yeah, nice, huh?" she replied. "It's a little something my brother brought home from the War."
I didn't know what that meant, not really. It wasn't until nearly 20 years later when Elizabeth Taylor was sued by a woman claiming that a Renoir Ms. Taylor owned had been stolen from her Jewish relatives by the Nazis that I realized the significance of those paintings on that woman's walls. I don't mean to imply her brother stole them… think of the difficulty the allies must have had returning them to their rightful owners after the War…  most of the owners and most of their heirs were dead. Still… how did a U.S. soldier come into possession of scores of master works? I got curious and my curiosity drove me to research. Through my research I learned that the FBI estimates that nearly 20 percent of all Western art was stolen by the Nazis during the War. Twenty percent! They think that nearly 100,000 pieces are still to this day missing. That woman's throw-away line… a little something my brother brought home from the War… that's the basis of the plot of the first Josie book, Consigned to Death.
You're hosting a Writer's Workshop at The Poisoned Pen. What do you cover in those two hours?
The name of the workshop is called Mastering Story Structure With Jane's Plotting Roadmap. Here's the description: Structure is the foundation of your story—you'll learn when to use a linear structure and when a nonlinear structures is the better choice. Using Jane's Plotting Road Map helps you translate your story into a well-structured and deliciously complex plot or storyline. This workshop shows how to use structure to build suspense, and is based on my book, Mastering Suspense, Structure & Plot. The book was published last spring by Writer's Digest Books.
Tell us about your love of Nero Wolfe.
Lesa, this is an excellent question, but I'm not sure I'll be able to answer it.
I feel a deep, visceral connection with the two protagonists, Nero Wolfe and Archie Goodwin. It isn't merely as if I know them; it's as if they know me, that we're family.
I don't merely love the stories, I'm a student of them. As an author, I study them for pacing, characterization, backstory, and a gazillion other factors. The author, Rex Stout, was a master of plotting, dialogue, and lean descriptions. As a fan, I'm active in the Wolfe Pack, the literary society that celebrates all things Nero Wolfe. I'm the chair of the Black Orchid Novella Award (BONA), an annual award we give  in partnership with Alfred Hitchcock Mystery Magazine.
I discovered the books when I was in college. My favorites are those written in the late 1940s to the late 1960s. (Mr. Stout wrote them from 1934 to 1973.)
One of the things I love is finding themes in the books. For instance, the books are, on one level, a love story to New York City. They're also a story of devotion between two men who, on a superficial level, differ in almost everyway: Mr. Wolfe is sedentary. Archie is a man of action. Mr. Wolfe is agoraphobic (undiagnosed). Archie loves getting out and about. Mr. Wolfe is a gourmet. Archie loves corned beef sandwiches from Al's Diner down the street. And so on.
Each year, the Wolfe Pack sponsors a banquet. One of the things we do is have attendees give toasts, one each to Mr. Stout, Mr. Wolfe, Archie, Fritz (the chef and housekeeper), and "other," which includes anyone or anything the toaster chooses. Here's the toast I gave to "other" a few years ago, which I think explains what I'm talking about. I just love these books!
Jane K. Cleland's Toast to "Other"
To Sally and the Gals
About a year ago, when rereading one or other of the titles for the umteenth time, I became aware of a theme in the opus that I had never before noticed: Gals who try to do the right thing.
Archie admires them. Mr. Wolfe respects them. Fritz frets over their presence. And tonight I want to toast them.
There's Amy Jackson, better known as Julie Jacquette of BIG MAN, GO GO fame, who can say the alphabet backwards and who puts her life on the line in Death of a Doxy to help catch her friend's killer.
There's Madeline Sperling who, in The Second Confession, helps Archie learn facts about the family and guests. She invites him to visit when he was pretty much persona non grata, telling him that he was welcome … that if she can't let him in openly, she'd just as soon he stay out. She was helpful and supportive and she didn't push. As an aside, Archie said he was going to follow up with her, and I've always been sorry that he didn't. I like Madeline Sperling.
There are others, of course: Annabel Frey who in In the Best Families, tried to hire Archie to find a killer; Mr. Wolfe's daughter, Carla Britton, who in Black Mountain, goes to Montenegro to protect the cause she and Marko cared so much about, and died for her efforts. And let's not forget Phoebe Gunther from The Silent Speaker who, Mr. Wolfe said, "…displayed remarkable tenacity, audacity, and even imagination in using the murder of Mr. Boone for a purpose he would have desired, approved, and applauded." Phoebe also died trying to do the right thing.
But to me, the quintessential gal who tries to do the right thing is Sally Blount from Gambit. Sally sells her jewelry to raise $22,000—a fitting amount, she thinks, because she's 22 years old. She hires Mr. Wolfe to save her father from being convicted of a crime he didn't commit in the face of extraordinary opposition. Her mother, Dan Kalmus, her father's lawyer, even her father himself tell her, beg her, even order her to stop. But she sticks with it, because as she explains to Archie and Mr. Wolfe, this is the first good thing she's ever done.
So I ask that you join me tonight in toasting Sally Blount and all the gals who try to do the right thing. To Sally and the gals!
We often are invited to host a Wolfe Pack banquet at Bouchercon. Our next one will be at the 2017 Toronto Bouchercon. I hope your readers will join us and see for themselves what all the fuss is about! We have so much fun!
As host of Writer's Room, you interviewed crime fiction authors. What was your favorite question to ask them? Would you answer it?
Q: Why did you write "that"?
A: My answer: I don't know. Seriously, I learned from these extraordinary authors that while we can understand some aspects of the writing process, much of what we do happens on a deeper, less conscious level.  There's more mystery in the production of art than many people, myself included, want or  expect.
What authors have inspired you?
William Zinsser, for whom teaching writers was a calling. Dr. Michael Austin, whose textbook, Reading the World: Ideas that Matter, lived up to the promise of its title, and changed my life. Ruth Chessman, an extraordinary mystery writer, and my mother.
Other than your own, name several books you would never part with.
In alphabetical order, by author:
Michael Austin, Reading the World: Ideas that Matter
Ruth Chessman, Bound for Freedom
Georgette Heyer, Cotillion, Frederica, The Reluctant Widow, and Venetia, among others.
Paul Huan & Ned Deloach. Reef Fish Identification
Stephen King, On Writing: A Memoir of the Craft
Rex Stout, Before Midnight, Black Mountain, Death of a Doxy, Murder by the Book, Plot It Yourself, The Silent Speaker, among others.
 William Zinsser, On Writing Well
What author would you like to recommend who you think has been underappreciated?
I don't know that Maria Semple is underappreciated, but I certainly recommend her! I suggest readers start with Where'd You Go, Bernadette?
Thank you, Jane. As I said, you can meet Jane on Dec. 10 at The Poisoned Pen. And, you can order a signed copy of Glow of Death through the Web Store.  https://bit.ly/2ggN3QE