I've been posting "Every Summer Has a Story" posts from various authors. Great minds must think alike, although I'd never presume to put mine in the same class as author Carolyn Hart's. She recently wrote an article about clever mysteries, which fits in perfectly with our summer theme.
Carolyn Hart has been named a Grand Master by the Mystery Writers of America. She also is, in my opinion, an expert on the subject of the traditional mystery. So, I'm excited to share her choices with you. However, it's a long article, so I'm splitting it into two parts. Come back tomorrow for the second half. Thank you, Carolyn, for allowing us to publish this here.
                                                       CLEVER MYSTERIES
                                                       My Personal Choice
                                                            By Carolyn Hart
Five authors put the boot to the calumny that mysteries are written by rote, predictable, plodding, plot-driven. These titles offer readers a glimpse of incredibly fertile, funny, and original minds at work.
AND THEN THERE WERE NONE (American title) by Agatha Christie (1939)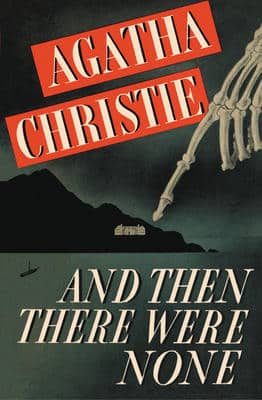 Excerpt: Into that silence came The Voice. Without warning. Inhuman, penetrating  . . .
Christie maroons ten individuals, each harboring an ugly secret, on an island with no means of escape. Nine are guilty of murder. The tenth is their executioner. When I first read the novel, I could scarcely wait to finish one page before beginning another. Who were these people with apparently nothing in common? Why didn't they know the identity of their host? When it became clear that each was slated to die, shock, fear, and desperation permeated each page.
As a mystery writer, I"˜m fascinated by the perfection of the novel. Christie not only devised a unique set of circumstances, she created individuals whose character and temperament lead them to doom. She envisioned the exact personalities she needed to make a complex plot work yet each person is believable.
Mr. and Mrs. Rogers, butler and cook, are in residence when the others arrive. Mr. Rogers informs them their host will arrive tomorrow. The guests find the modern house attractive, their rooms comfortable. The dinner is excellent. There is a moment of light conversation about the curious centerpiece on the dining room table, ten china figures, the Ten Little Indians of the nursery rhyme.
The group gathers in the drawing room for after dinner coffee and drinks. Genial conversation ends abruptly when the Voice speaks, a Voice without an apparent source. The Voice cites each person by name with an accusation of murder. The first death occurs within minutes. One Indian figure is missing from the centerpiece. Deaths occur one by one until at last no one is living and all ten china figures are gone from the table.
And Then There Were None is a marvelous achievement, suffused with human emotion yet as precise and perfect as a mathematical equation.   
MURDER'S LITTLE SISTER by Pamela Branch (1958)
Excerpt: Disheveled, irascible YOU Editor Sam Egan implores his staff: ". . . as a team let's have a stab at Misadventure, mm? If some swine's found a clue, we gradually introduce Suicide. Soft pedal it. Nothing of interest to a lurking journalist. Nothing definite, nothing chatty, nothing squalid. Remember, we don't want suicide and I absolutely refuse to have Murder."
I love laughter and Pamela Branch entertains from the first page to the last. There are a great many clever mysteries, but the heights of hilarity achieved by Branch are unmatched. Her laughter is well-earned, unerring depictions of sometimes malicious inner thoughts seasoned by the self-preoccupation that leads most of us to always respond in terms of how does it affect me.
Unpleasant, ill-tempered Enid Marley is the wildly popular advice columnist for YOU, a down-at-heels magazine always teetering on extinction. Enid knows her colleagues despise her, but she is essential to YOU's survival. Thrice-married, twice-divorced Enid is furious at her third husband's involvement in a torrid affair. In an attempt to salvage her marriage, though she cares nothing for him, she decides to stage her suicide, though, of course, never intending to perish.
She edges out onto the ledge of her fifth floor office window. Vertigo sends her tumbling though someone – she can't imagine who since she is universally loathed by the staff- tries to grab her. Her spectacular dive is broken by a restaurant awning. Unhurt, she flees the scene, desperate to avoid jail for Attempted Suicide. The magazine staffers and Enid herself wonder what is the most advantageous claim, Suicide, Murder, Manslaughter, Misadventure, or a tie between Suicide and Murder.
Branch's imaginative leaps careen from pugnacious brawlers to knitting patterns to inchoate introspection of staff, police, press, and public. Yet Branch pulls together every thread in a universe only she could have created.  
Evenings spent gurgling with laughter are rare and precious. Thank you, Pamela Branch.
And, thank you, Carolyn Hart. I hope readers come back tomorrow to see the other three choices.