I'd like to welcome readers back. Thank you for returning to see the second half of Carolyn Hart's choices of clever mysteries. Let's dive right in.
*****
THE AFFAIR AT ROYALTIES by George Baxt (1972)
Excerpt: Dame Marjorie Denning, Arthur's remote mother, observes, "I suppose anybody could be driven to murder when hate is the chauffeur."
Amnesia has served as a springboard for many mysteries, but George Baxt adds a crime scene without a body, the intertwined passions in a closed circle, and a narrator whose view of events often differs from the introspective thoughts of those around her. Who do you believe?  
A woman regains consciousness in a convalescent sanatorium. She has no memory. Her eyes closed, she grasps at fragments of the conversation around her, identifies the voices as a doctor, a nurse, the husband she doesn't recall, and a police detective. She opens her eyes and learns she is Laura Denning, a successful mystery author and that she was found in an unresponsive state at her cottage in Cornwall, clutching a bloodied caving knife. Blood stained her dress and the walls.
The doctor believes her memory will return. She realizes she may be suspected of murder or may have been present when murder occurred. Whose murder? There is no body. Laura is attracted to the detective. I enjoyed Laura's tart appraisal of all around her, never quite kind, but always entertaining.   
As bits of memory return, Laura and the detective explore her relationships n Cornwall. Baxt intersperses Laura's returning memories with her theories of what might have happened in the bloodied kitchen. Intensely personal and emotional first person vignettes reveal the unimagined and sometimes unimaginable thoughts, often sardonic and amusing, behind everyday faces.
I love a mystery that offers surprises on every page and The Affair at Royalties succeeds with elan.
DEAD UNTIL DARK by Charlaine Harris (2001)
Excerpt: Sookie Stackhouse: The Compton house was visibly different from the last time I'd been in it, the sickening evening I'd met the other vampires.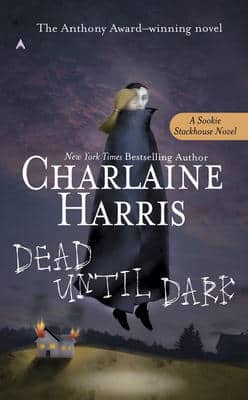 Charlaine Harris juxtaposes the ordinary with the fantastic, humor with horror, the kind with the brutal. Bon Temps, Louisiana, is like no other place, but it is at the same time everyday and humdrum. The residents of Bon Temps see a world we do not know, yet Harris makes that world as matter-of-fact as any small town Main Street on a bustling Saturday. When reading Harris, I am always caught unaware and chilled deep inside when she turns a placid scene upside down with a dash of horror. Harris takes a matter-of-fact moment and there is a sudden lurch and I smack into a gritty vision of reality.
Thanks to the incredible success of the television series True Blood, I doubt many are unfamiliar with Sookie Stackhouse, the delightful, appealing, honorable protagonist in Dead Until Dark. Sookie is thrilled the night Bill the vampire walks into the rural bar in Louisiana where she waits tables. She is doubly pleased when she realizes she can't read Bill's thoughts. She considers her ability to read other people's thoughts a detriment, dooming normal relationships. Sex is no fun when the guy's inner thoughts bombard her.
Sookie is strongly attracted to Bill, but Bon Temps turns dangerous when someone starts murdering young women who were in contact with vampires. Sookie's grandmother is killed and Sookie and Bill are determined to discover the murderer.
In Harris's world, the sun shines, but darkness is always present.
THE FENG SUI DETECTIVE by Nury Vittachi (2002)   
Feng Sui Master C. F. Wong assesses a cluttered home: People did not understand the importance of destruction, he decided. There must be as much destruction as acquisition in a person's life. Otherwise the result was stagnation, accumulation, and eventually a clogging up of energy flows by dead items.
Nury Vittachi, a Hong Kong journalist, shares irreverent and hilarious views of life and people in his wacky and wonderful novels. A cosmopolitan background, unusual puzzles, and utterly original characters distinguish his books from ordinary comic mysteries.  
In the debut novel, Wong confronts arson, kidnaping, a ghost in a dental office, a young woman apparently destined for imminent death, and a lover with a suspect motive.  
I find Wong's Singapore fascinating. In his office are Joyce McQuinnie, a British -Australian intern, who speaks a strange language called "Teenager" where whatever means yes and as if means no, and Winnie Lim, an office administrator who routinely obstructs his wishes and torpedoes his requests. His friends and sometime colleagues are Madame Wu, a Chinese fortuneteller; Dilip Kenneth Sinha, an Indian psychic, and Gilbert Tan, an intuitive Singapore police superintendent. They often combine their talents as The Singapore Union of Industrial Mystics.
The action moves fast with occasional pauses as Wong makes entries in Some Gleanings of Oriental Wisdom, his great work on lessons to be learned from sages of the past. One moral drawn: In a dispute, Blade of Grass, let time intervene. Only when anger has dissipated will there be room for wisdom to enter.
I unhesitating place Feng Sui Master C. F. Wong in the pantheon of singular mystery sleuths such as Nero Wolfe, Rabbi Small, Judge Dee, Lord Peter Wimsey, and Tom Ripley.
*****
And, I unhesitatingly agree with MWA about Carolyn Hart's status as a Grand Master, and as a living treasure in the mystery field. Thank you, Carolyn, for sharing these suggestions with us.