Linda Castillo, author of the Kate Burkholder novels, will be at The Poisoned Pen on Tuesday, July 26 at 7 PM. She's on book tour for Among the Wicked, her latest novel that takes the police chief out of Ohio's Amish Country.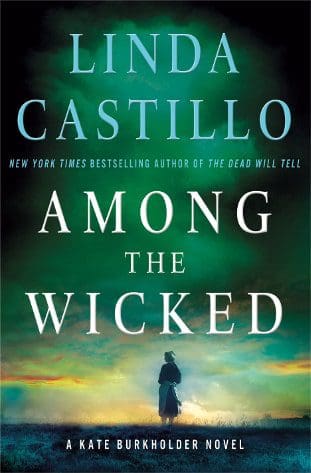 She was kind enough to take time for an interview. Here's Linda Castillo, In the Hot Seat.
Linda, I'm so pleased you agreed to sit in the hot seat for an interview. Would you start by introducing yourself to the readers?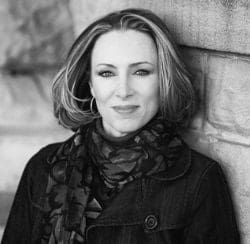 Thank you for having me, Lesa.  I love talking about the books (and the hot seat just happens to be my favorite spot!)
I've been reading about Kate Burkholder since you first introduced her in 2009, but some might not be familiar with her. Would you introduce Kate?
Kate Burkholder is the chief of police in the small town of Painters Mill located in the heart of Ohio's Amish country.  What sets Kate apart is that she was born Amish.  Readers learn in the first book that something terrible happened to Kate when she was a fourteen year old Amish girl that eventually lead to her leaving the fold when she was eighteen.  Kate is an imperfect character, but feels things deeply.  Early in the series, she is a little rough around the edges, but as she finds her feet as chief and begins a relationship, she becomes more even keel.
Tell us about Among the Wicked, without spoilers.
I'm so excited about AMONG THE WICKED.  Kate is approached by law enforcement in rural upstate New York after a young Amish girl is found frozen to death inside a mysterious Amish community. The girl's death is suspicious and rumors abound about the sect—especially with regard to the children.  Kate travels to New York, infiltrates the Amish settlement, and goes deep undercover.  At first, everything seems fine—but nothing is as it seems and evil lurks in the most unexpected places.  In the coming days, she unearths a world built on secrets, a serious of shocking crimes and herself alone, isolated and trapped in a fight for her life.
How do you do your research about the Amish? 
I travel to Ohio's Amish country every year during book tour (one of the highlights of being an author!)  One of the wonderful librarians I've become friends with knows the local Amish community and we've visited two Amish families.  One of the families runs a dairy operation.  It was so fascinating just to sit down and chat. Once, while we were visiting another family, we were sitting on the deck having coffee and iced tea, and the Amish gentleman asked me if I'd like to take a buggy ride.  Of course, I took him up on the offer.  He must have seen my excitement because once we got on the road, he asked me if I'd like to drive.  It was a terrific experience—and a lot of fun.
You wrote romantic suspense before you started this series. What made you turn to crime?
While I really enjoyed writing romantic suspense, I feel as though I've always been much more suited to writing crime fiction.  During the early days of my career, I found myself always pushing the envelope—and my editors constantly pulling me back.  It was then that I wrote SWORN TO SILENCE, the first book in the Kate Burkholder series.  I just sort of cut loose and, as a writer, it was a wonderful, liberating experience.  I'd found my niche.
Off the writing topic. How did you become interested in barrel racing?
I've always loved horses and learned to ride when I was very young.  I've always like a bit of speed, too.  (If you've ever watched a barrel racing video, you'll know what I mean!)  Feeling that kind of power from such a majestic animal is such an exhilarating, all encompassing experience. You have to be in the moment and basically forget about everything else (at least for those sixteen or seventeen seconds!)  That is made all the more special when you love your horse the way I do.  All of that said, we're not very fast.  My mare (who loved barrels) is now semi retired due to arthritis and my gelding is getting up in years.
Where do you take friends when they come to visit? 
My husband and I are very much outdoor types (and homebodies to boot!)  But when we want to show people around, we'd probably take them to Palo Duro Canyon.  It's the second largest canyon in the US and, some say, Texas' best kept secret.
Pretend you have the money to live anywhere. You can't pick Texas. Where would you move, and why?
Okay, since I can't choose Texas ( J ) I'd have to say north Florida.  My husband and I drove through the area a few years back and there are a  lot of gorgeous horse farms, rolling hills and massive live oak trees.  It's beautiful country and the perfect place for a ranch.
What's on the top of your TBR (To Be Read) pile?
I just finished an amazing book by John Hart titled REDEMPTION ROAD.  What a tremendous read.  He's such a beautiful writer.  Before that, I read Sandra Brown's MEAN STREAK.  It was quite the thrill ride.  On deck is Nora Robert's THE OBSESSION.  She's an amazing writer.
Kate's job involves sizing up people. What 5 words or phrases would she use to describe you?
I'd love to sit down with Kate and have a beer.  She's much more interesting than I could ever hope to be.  If I had to come up with a word she might use to describe me . . .   She'd probably think I was pretty boring. J
Thank you! 
Thank YOU, Lesa, for the great questions and for featuring me on your blog.
Linda Castillo's website is www.lindacastillo.com, and her books are available through the Web Store, https://bit.ly/1UmpCA3.
Hope you can make it Tuesday, July 26 at 7 PM to meet her!