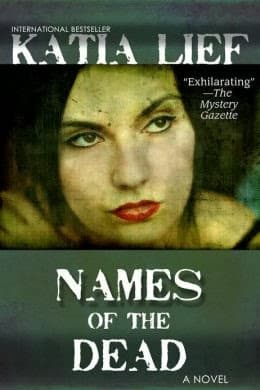 What would you do if a young man you knew only vaguely started work at your office, and asked you to share a picnic lunch? How would you feel if he then started to bombard you with gifts, emails and phone calls? At just what point would you decide that this was more than a crush… and needed to be regarded as serious stalking? Questions like these are the starting-point for 
Names of the Dead,
 a recent crime thriller by Katia Lief. This author is best-known for the Karin Schaeffer private eye series, but the heroine of her standalone novel, Darcy Mayhew, is an investigative journalist at the New York Times. That means the book will appeal to anyone who enjoys reading novels set in newsrooms, such as Julie Kramer's 
Delivering Death
, 
recently reviewed here
 at Poisoned Fiction.
A 30-something widow who has moved from Martha's Vineyard to the Big Apple to rebuild her life, Darcy is an appealing heroine. Anyone who enjoys the whole female private eye style of fiction will immediately be sucked in by her wry, humorous first-person narration, which is compulsively readable. However, as Darcy finds her home life with her young son Nat under threat from a stalker, the appropriately-named mailroom worker Joe Coffin, the book also has strong elements of the 
"domestic suspense" genre
, highlighted in the LA Times.
The novel is quite short, so it can almost be read at a sitting "" and it might be a mistake to pick it up if you have to do something urgent in the next couple of hours. The newsroom atmosphere is convincingly created, and, refreshingly, Darcy actually has to work on more than one story at a time "" unlike many fictional journalists who can spend weeks at a time on one investigation without their bosses batting an eyelid! All the same, most of her effort becomes focused on one particular scandal, after a whistle-blower approaches her with a story which carries deadly undertones. As she becomes increasingly obsessed by this investigation, it's all too easy to ignore Joe's obsession with her, and to convince herself it doesn't matter all that much. Maybe he was outside her door by coincidence "" and maybe leaving a bagel and coffee at her desk for breakfast was just a friendly gesture. Maybe.
The book builds up the tension well, with little details adding together to make Joe an increasingly scary figure. In the UK, the novel is published under a different title, focusing more on the threat he poses "" 
Watch You Die
. However, the US title is more true to the book's main theme, because this is a novel with dark underpinnings, 
focusing on bereavement and grieving
. Darcy is struggling to come to terms with the loss of her beloved husband, Hugo, and to allow herself to love again. Her own emotions also give her an insight into the suffering of her parents, who were both Holocaust survivors. Meanwhile, as she gains a greater understanding of her mother's feelings in the past, she has to face up to the risk of losing her in the present, as she is a victim of advancing Alzheimer's Disease. These are grim themes and there is a danger that the piling up of misery could get a bit much, yet somehow the novel never feels depressing. This is mainly because of the witty prose style "" and also because there are lighter sections woven in, such as Darcy's vivid memories of her life in Martha's Vineyard, and her 
tentative second-time-around romance
 with her son's gorgeous teacher.
It's not just this novel which goes by more than one name. The author, who is a creative writing tutor, has herself published under three different names. Her first books were issued under her maiden name, Katia Spiegelman, next she wrote her first thrillers using a pseudonym, Kate Pepper (the surname was borrowed from a pet cat) and then she started writing her married name, Katia Lief. She has written a
 lighthearted essay asking "What's In a Name?"
, where she admits that at times she has ended up confusing herself. Many of her heroines also have similar names, adding to the muddle. It all means that, if you get hooked on this author's style and want to catch up with her various books, you'll have to do quite a bit of searching to find them all.
Reviewed by Anonymous