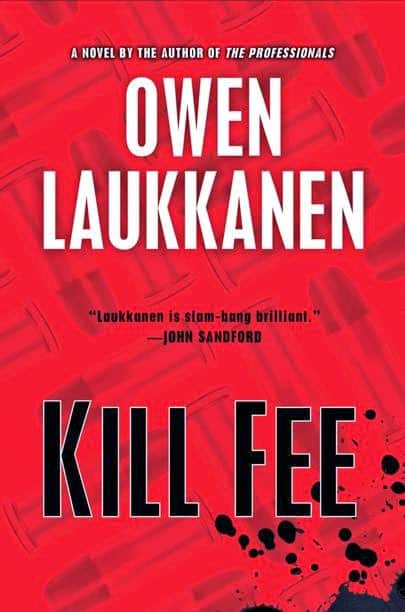 A new voice came roaring out of British Columbia a couple of years ago and blew the crime reading public out of the water.  The Professionals was an amazing debut with a fresh conceit, a startling band of outlaws and an unusual odd couple for detectives.  The razor sharp plot and the page turning execution led to huge sales and many awards.  The affable and handsome young lion of an author took the reading public with him for his second book, Criminal Enterprise, and let everyone know that there would be no sophomore slump from this Canuck.  It has been a long wait but Mr. Laukkanen's new book is finally here.
Kill Fee brings back the odd pairing of Carla Windermere, a black female FBI agent and Kirk Stevens, a married father and Minnesota state cop.  How they come to be working  together is skillfully portrayed in a slam-bang opening scene.  The book once again features a novel idea ripped from the headlines.
What do we do with our damaged soldiers who are returning from a fruitless war. How do we treat the psychic wounds they carry with them?  This problem is cunningly "solved" in an unexpected way by the author.
Like an action film that never lets up, Kill Fee wends its way through a labyrinth of clues as the two detectives find themselves embroiled in a Manchurian Candidate nightmare.  As the tension builds they find unexpected feelings rising between them and how they deal with these only keeps the pages turning.  This is a police procedural and a first-rate thriller. Do not miss it.
reviewed by STEVE SHADOW SCHWARTZ