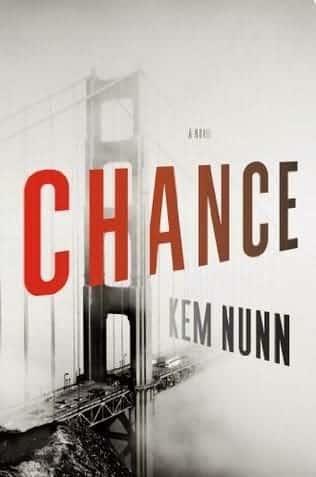 With huge dollops of The Big Lebowski and rife with twisted noir tropes Kem Nunn's latest book, "Chance" arrives like a run-away wrecking ball.  This dense and madly enjoyable novel has the requisite femme fatale, the big city corrupt cop and enough shady characters to please any fan of the psychological socio-crime novel.  This is a high-wire act of a book that runs flat out and never falters.  Mr. Nunn has always been an author on the edge and here he grabs his story by the throat and squeezes it for all it's worth.
"Chance" is the title and chances are what Mr.Nunn takes in this roiling cauldron of a psycho thriller, social satire and gleeful gore fest.  Dr. Eldon Chance, a neuropsychologist, sets forth on a classic noir path that soon turns into a trip down a rabbit hole of horrors.  His journey becomes a series of switchbacks that gather speed towards a climax that is as hilarious as it is profound.
Since being overwhelmed by Kem Nunn's first book, "Tapping the Source", I have been a huge fan of his writing.  With "Chance" he delivers big time.  This is much more than just a crime novel.  Rich with echoes of Hammett and everything since, he pulls us along at lightning speed in this clever and richly plotted novel.  Issues of parenting, manhood, and the failures of the modern family ricochet around the central plot.  This is a rich and heady stew that charges ahead on twin rails of suspense and humor.  To reveal anymore of the story would be to temper the page-turning joy of this brilliant take on the classic San Francisco noir-clouded novel.  Clever, funny and exciting, "Chance" is the product of a terrific writer at the top of his game.  Don't miss it.