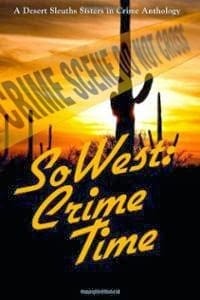 Time to once again saddle up and ride the crime soaked mesas and saguaro studded vistas of Arizona.  The local chapter of Sisters In Crime, the Desert Sleuths, has a new anthology out and its hot as a pistol and dangerous as a cornered rattler.  Each year the gals(and a few guys) produce a new collection of Arizona-set crime tales.
This years brace of 20 tales is, I believe, the strongest yet.  Under the editorial lead of the immensely talented Deborah J. Ledford a great set of stories has emerged.  Called "So West: Crime Time" the Sisters In Crime have done themselves proud.
The stories range from comic to bloody.  There is irony and shocks galore.  The entire physical gamut of our state is made use of and the people we meet continually surprise us.  Rather than single out my favorites (I have no wish to incur the wrath of any of these lethally imaginative writers by slighting someone) I want to praise all 19 women and one man for their superior efforts.  These are stories to savor throughout the year.
Arizona has a strong and varied community of writers from all genres.  This collection is in the vanguard of getting that message out.  This is the third in the "So West" series and they are all fine examples of our homegrown talent.  All 3 collections are available at the Poisoned Pen bookstore in Scottsdale.  This is a great chance to support a wonderful local resource and to get a great reading experience.
reviewed by Steve Shadow Schwartz