Kathy Reichs was just at The Poisoned Pen, and I expect to have photos and a Livestream link at any time. In the meantime, her standalone novel, Two Nights, is the Hot Book of the Week.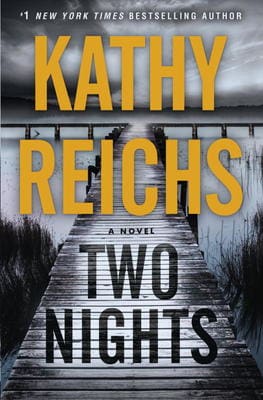 You can order a signed copy of Two Nights through the Web Store. https://bit.ly/2tB62xi
Here's the description of the book.
A standalone thriller featuring a "tough-talking, scarred heroine"* from the author of the Temperance Brennan series, the basis for the hit TV show Bones.
Meet Sunday Night, a woman with physical and psychological scars, and a killer instinct. . . .
Sunnie has spent years running from her past, burying secrets and building a life in which she needs no one and feels nothing. But a girl has gone missing, lost in the chaos of a bomb explosion, and the family needs Sunnie's help. Is the girl dead? Did someone take her? If she is out there, why doesn't she want to be found?
It's time for Sunnie to face her own demons—because they just might lead her to the truth about what really happened all those years ago.
*Publishers Weekly
*****