Patrick King from The Poisoned Pen recently welcomed Tori Eldridge to the bookstore to discuss her fourth book in the Lily Wong series, The Ninja's Oath. There are signed copies of The Ninja's Oath available in the Webstore. https://bit.ly/46rBoWs
Here's the summary of The Ninja's Oath.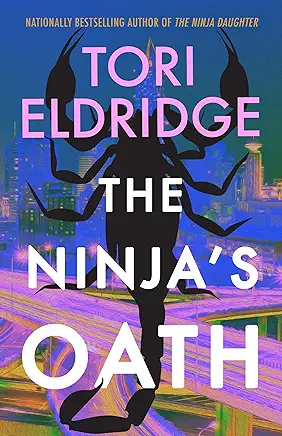 THE NINJA'S OATH takes Chinese-Norwegian modern-day ninja, Lily Wong, to Shanghai in an explosive joint mission with her father's former-triad cook and the assassin J Tran. Get ready for the riveting next book in Tori Eldridge's bestselling Lily Wong series!
International action adventure ensues when Lily Wong—a Chinese-Norwegian modern-day ninja—travels from Shanghai to Japan to help family friend and former triad enforcer, Lee Chang, locate and rescue his kidnapped twelve-year-old niece while, back home in Los Angeles, her father's health wanes.
Their mission is aided and complicated by an enigmatic assassin with a discomforting fascination for Lily. When the hunt for the niece leads to another missing relative, the trio of dangerous heroes—ninja, triad, and assassin—are pitted against an even greater foe. Meanwhile, Chang's family must be moved from the shikumen house in Old Shanghai before the government tears it down. This would be simpler if not for the feud between brothers and the old resentments and intrigues entwined with the stunning history of the city itself.Lily is pushed to her limits as she faces potentially insurmountable odds and worries about her father's undiagnosed disease. At the same time, she is shocked by the true identity of her ninja teacher—known only Sensei—and the truth behind why he left Japan. THE NINJA'S OATH is the thrilling new novel in Tori Eldridge's acclaimed, multi-award nominated Lily Wong series, sure to leave readers breathing and riveted until the last page is turned!
---
Tori Eldridgeis the national bestselling author and Anthony, Lefty, and Macavity Awards finalist of the Lily Wong mystery thriller series-THE NINJA DAUGHTER, THE NINJA'S BLADE, and THE NINJA BETRAYED. Her shorter works appear in the inaugural reboot of WEIRD TALES magazine and horror, dystopian, and other literary anthologies. Her horror screenplay THE GIFT-which inspired DANCE AMONG THE FLAMES-earned a semi-finalist spot for the Academy Nicholl Fellowship.
Before writing, Tori performed as an actress, singer, dancer on Broadway, television, and film, and earned a 5th degree black belt in To-Shin Do ninja martial arts. She is of Hawaiian, Chinese, Norwegian descent and was born and raised in Honolulu where she graduated from Punahou School with classmate Barack Obama. Tori's deep interest in world culture and religions has prompted her to visit nine countries, including Brazil.
---
Enjoy the conversation with Tori Eldridge.