Patrick Millikin from The Poisoned Pen welcomed Lou Berney to talk about his new book, Dark Ride. Berney talks about the book he worked on that didn't come together. Instead, he wrote Dark Ride. There are signed copies of it available in the Webstore. https://bit.ly/3LxgvB6
Here's the description of Dark Ride.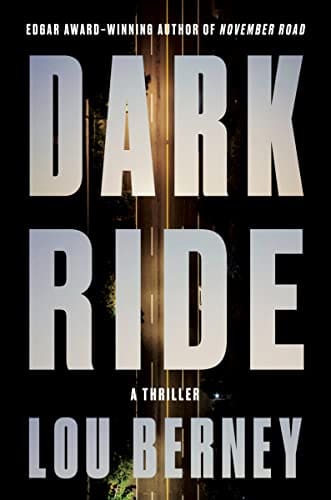 From Lou Berney, the acclaimed, multi award-winning author of November Road and The Long and Faraway Gone, comes a Dark Ride
Sometimes the person you least expect is just the hero you need
Twenty-one-year-old Hardy "Hardly" Reed—good-natured, easygoing, usually stoned—is drifting through life. A minimum-wage scare actor at an amusement park, he avoids unnecessary effort and unrealistic ambitions.
Then one day he notices two children, around six or seven, sitting all alone on a bench. Hardly checks if they're okay and sees injuries on both children. Someone is hurting these kids.
He reports the incident to Child Protective Service.
That should be the end of it. After all, Hardly's not even good at looking out for himself so the last thing he wants to do is look out for anyone else. But he's haunted by the two kids, his heart breaking for them. And the more research he does the less he trusts that Child Protective Services —understaffed and overworked—will do anything about it.
That leaves…Hardly. He is probably the last person you'd ever want to count on. But those two kids have nobody else but him. Hardly has to do what's right and help them.
For the first time in his life, Hardly decides to fight for something. This might be the one point in his entire life, he realizes, that is the entire point of his life. He will help those kids.
At first, trying to gather evidence that will force the proper authorities to intervene, Hardly is a total disaster. Gradually, with assistance from unexpected allies, he develops investigative skills and discovers he's smarter and more capable than he ever imagined.
But Hardly also discovers that the situation is more dangerous than he ever expected. The abusive father who has been hurting these children isn't just a lawyer—he also runs a violent drug-dealing operation. The mother claims she wants to escape with the kids—but Hardly isn't sure he can trust her.
Faced with a different version of himself than he has ever known, Hardly refuses to give up. But his commitment to saving these kids from further harm might end up getting the kids, and Hardly himself, killed.
---
Lou Berney is the author of four previous novels, the multiple award-winning November Road and The Long and Faraway Gone, as well as Gutshot Straight and Whiplash River. His short fiction has appeared in publications such as The New Yorker, Ploughshares, and the Pushcart Prize anthology. He lives in Oklahoma City, Oklahoma.
---
It's been five years since Lou Berney's November Road. Enjoy the conversation about Berney's new book.