Author Graham Brown recently joined Barbara Peters, owner of The Poisoned Pen, for a bookstore appearance. Brown is the author of the latest NUMA Files book, Clive Cussler's Condor's Fury. There are signed copies of the book in the Webstore. https://tinyurl.com/3j54c7kv
Here's the description of Clive Cussler's Condor's Fury.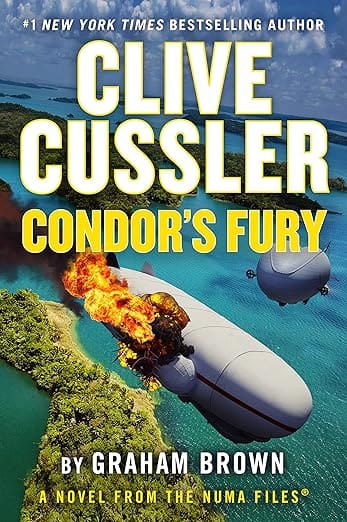 Kurt Austin faces mind-control technology and cutting-edge weaponry in the latest novel in the #1 New York Times-bestselling series created by the "grand master of adventure" Clive Cussler.
    On a NUMA training mission in the Caribbean, Kurt Austin and Joe Zavala catch a distress call from a nearby freighter. Leaping into action, they locate a damaged vessel and a dead captain clutching a shotgun.
    While searching the freighter for clues, Kurt and Joe are ambushed by crew members who seem terrified and disoriented, almost brainwashed. The trawler they were hauling has vanished, taken—the men say—by baffling lights that circled the ship.
    Kurt and Joe deduce that the men are suffering from Havana Syndrome, which deepens the mystery and raises the stakes. Soon, they're confronting Cuban mercenaries who plan to use magnificent modern airships to hijack a nuclear submarine—culminating in a life-or-death showdown in the skies.
---
Clive Cussler was the author of more than eighty books in five bestselling series, including Dirk Pitt®, NUMA Files®, Oregon Files®, Isaac Bell®, and Sam and Remi Fargo®. His life nearly paralleled that of his hero Dirk Pitt. Whether searching for lost aircraft or leading expeditions to find famous shipwrecks, he and his NUMA crew of volunteers discovered and surveyed more than seventy-five lost ships of historic significance, including the long-lost Civil War submarine Hunley, which was raised in 2000 with much publicity. Like Pitt, Cussler collected classic automobiles. His collection featured more than one hundred examples of custom coachwork. Cussler passed away in February 2020.
Graham Brown is the author of Black Rain, Black Sun, and Clive Cussler's Dark Vector, and the coauthor with Cussler of Devil's Gate, The Storm, Zero Hour, Ghost Ship, The Pharaoh's Secret, Nighthawk, The Rising Sea, Sea of Greed, Journey of the Pharaohs, and Fast Ice. He is a pilot and an attorney.
---
Enjoy the conversation with Graham Brown.