Let's admit that the conversation is all over the place with friends Amanda Quick, J.T. Ellison, and The Poisoned Pen's owner Barbara Peters. They do get to the 1930s and Quick's The Bride Wore White, but they talk about several other subjects first. There are signed copies of The Bride Wore White in the Webstore. https://tinyurl.com/2ce8rdfu
Here's the description of Amanda Quick's latest book, The Bride Wore White.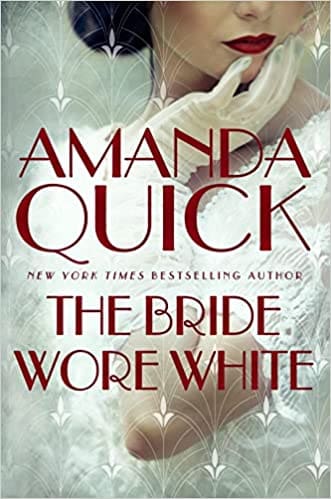 A psychic desperate to escape her destiny—and a killer—finds her future in the coastal town of Burning Cove in New York Times bestselling author Amanda Quick's latest novel.

Being Madame Ariadne, Psychic Dream Consultant, wasn't Prudence Ryland's ideal gig, but it paid well which was reason enough to do the work—until she realizes that her latest client intends to kill her. But Prudence, a master at reinvention, finds a new job and home as far away as possible and is finally able to relax—which turns out to be a big mistake. Letting her guard down means being kidnapped and drugged and waking up in a bloodstained wedding dress in the honeymoon suite next to a dead man. With the press outside the hotel, waiting with their cameras and police sirens in the distance, it's obvious she's being framed for the man's murder. Prudence knows who is responsible, but will anyone believe her?
It doesn't seem likely that rumored crime boss Luther Pell or his associate, Jack Wingate, believe her seemingly outrageous claims of being a target of a ruthless vendetta. In fact, Prudence is convinced that the mysterious Mr. Wingate believes her to be a fraud at best, and at worst: a murderer. And Jack Wingate does seem to be someone intimately familiar with violence, if going by his scarred face and grim expression. So no one is more shocked than Prudence when Jack says he'll help her. Of course, his ideas for helping her involve using her as the bait for a killer, but Prudence feels oddly safe with Jack protecting her. But who will protect Prudence from her growing fascination with this enigma of a man?
---
Amanda Quick is a pseudonym for Jayne Ann Krentz, the author, under various pen names, of more than fifty New York Times bestsellers. There are more than 35 million copies of her books in print. She is also the author of the Ladies of Lantern Street novels and the Arcane Society series.
---
Enjoy the discussion.