Patrick King from The Poisoned Pen recently welcomed authors Scott Graham and Margaret Mizushima to the bookstore. Graham's Saguaro Sanction is the eighth book in his National Park Mystery Series. There are signed copies of Margaret Mizushima's eighth book in the Timber Creek K-9 Mystery Series, Standing Dead. You can order both books through the Webstore. https://store.poisonedpen.com/
Here's the summary of Saguaro Sanction.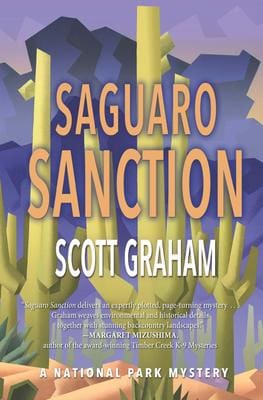 Janelle Ortega and Chuck Bender are drawn deep into a threatening web of hostility and deceit in Saguaro National Park in this page-turner of a mystery.
"A winning blend of archaeology and intrigue, Graham's series turns our national parks into places of equal parts beauty, mystery, and danger."
—EMILY LITTLEJOHN, author of Lost Lake
When Janelle Ortega's cousin from Mexico is found brutally murdered at a remote petroglyph site in Saguaro National Park, she and her husband, archaeologist Chuck Bender, are drawn deep into a threatening web of hostility and deceit stretching south across the US-Mexico border and back in time a thousand years, to when the Hohokam people thrived in the Sonoran Desert.
Book 8 in Scott Graham's National Park Mystery Series introduces readers to the landscapes and cultural histories of Saguaro National Park in southern Arizona, providing an inside look at the wonders of the wildly popular national park and its archaeological and cultural complexities.
---
Scott Graham is the author of the acclaimed National Park Mystery series, featuring archaeologist Chuck Bender and Chuck's spouse, Janelle Ortega. In addition to the National Park Mystery series, Scott is the author of five nonfiction books, including Extreme Kids, winner of the National Outdoor Book Award. Scott is an avid outdoorsman who enjoys backpacking, river rafting, skiing, and mountaineering. He has made a living as a newspaper reporter, magazine editor, radio disk jockey, and coal-shoveling fireman on the steam-powered Durango-Silverton Narrow Gauge Railroad. He lives with his spouse, who is an emergency physician, in Durango, Colorado.
---
Here's the description of Standing Dead.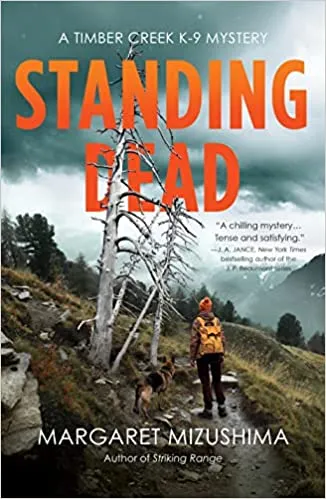 From critically acclaimed, master thriller author Margaret Mizushima, comes the eighth installment of the award-winning Timber Creek K-9 mysteries.
"Tense and satisfying," (JA Jance) Standing Dead is the perfect read for fans of CJ Box and Longmire.
Deputy Mattie Cobb and her sister, Julia, travel to Mexico to visit their mother, but when they arrive, they discover that she and her husband have vanished without a trace. Back in Timber Creek, Mattie finds a chilling note on her front door telling her to look for "him" among the standing dead up in the high country.

The sheriff's department springs into action and sends a team to the mountains, where Mattie's K-9 partner, Robo, makes a grisly discovery—a body tied to a dead pine tree. Mattie is shocked when she realizes she knows the dead man. And then another note arrives, warning that Mattie's mother is in desperate straits. In a last-ditch gambit, Mattie must go deep undercover into a killer's lair to save her mother—or die trying.
---
Margaret Mizushima is the author of the award-winning and internationally published Timber Creek K-9 Mysteries. She serves as president for the Rocky Mountain Chapter of Mystery Writers of America, was elected the 2019 Writer of the Year by Rocky Mountain Fiction Writers, and is also a member of Northern Colorado Writers, Sisters in Crime, Pikes Peak Writers, and Women Writing the West. She lives in Colorado on a small ranch with her veterinarian husband where they raised two daughters and a multitude of animals. She can be found on Facebook/AuthorMargaretMizushima, Twitter @margmizu, Instagram at margmizu, and her website at www.margaretmizushima.com.
---
Enjoy the conversation.