Barbara Peters, the owner of The Poisoned Pen, recently welcomed authors Sarah Penner and Susan Stokes-Chapman. They first connected because of an interest in Georgian London. Penner's new book is The London Seance Society, and Stokes-Chapman's is Pandora. You can order copies of the books through the Webstore. https://store.poisonedpen.com/
Here's the description of The London Seance Society.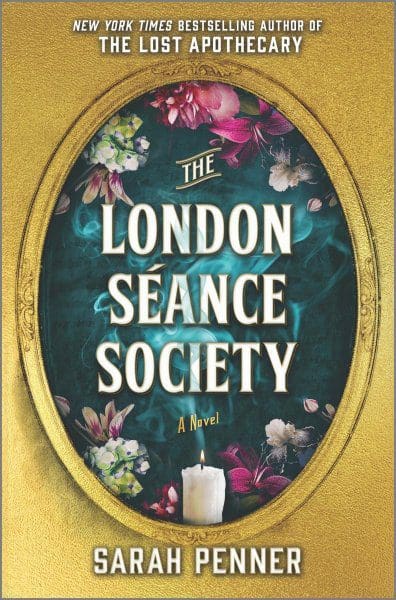 THE INSTANT NEW YORK TIMES BESTSELLER
From the author of the sensational bestseller The Lost Apothecary comes a spellbinding tale about two daring women who hunt for truth and justice in the perilous art of conjuring the dead.
1873. At an abandoned château on the outskirts of Paris, a dark séance is about to take place, led by acclaimed spiritualist Vaudeline D'Allaire. Known worldwide for her talent in conjuring the spirits of murder victims to ascertain the identities of the people who killed them, she is highly sought after by widows and investigators alike.
Lenna Wickes has come to Paris to find answers about her sister's death, but to do so, she must embrace the unknown and overcome her own logic-driven bias against the occult. When Vaudeline is beckoned to England to solve a high-profile murder, Lenna accompanies her as an understudy. With shared determination, the women find companionship that perhaps borders on something more. And as they team up with the powerful men of London's exclusive Séance Society to solve the mystery, they begin to suspect that they are not merely out to solve a crime, but perhaps entangled in one themselves…
Written with intoxicating suspense and sultry prose, The London Séance Society is an entrancing tale that blurs the lines between truth and illusion, and reveals the grave risks women will take to avenge the ones they love.
"Penner brings history to vivid life in this atmospheric and evocative whodunnit." —Nita Prose, author of The Maid
Named a Most Anticipated book byGood Housekeeping, Washington Post, Bookpage, CrimeReads, Readers Digest, Popsugar, LitHub, E! News, Goodreads, and more.
---
Sarah Penner is the New York Times and internationally bestselling author of The Lost Apothecary which will be translated into forty languages worldwide and is set to be turned into a drama series by Fox. Sarah spent thirteen years in corporate finance and now writes full-time. She and her husband live in Florida. To learn more, visit SarahPenner.com
---
Here's the summary of Pandora.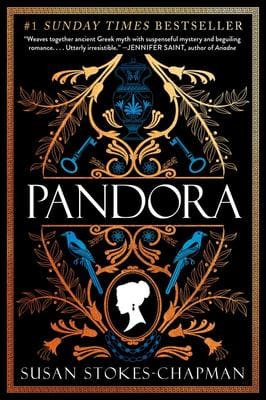 #1 Sunday Times Bestseller
"Lush, evocative and utterly irresistible."—Jennifer Saint, author of Ariadne
Prepare to lift the lid on a lush reimagination of the mythological Pandora….Susan Stokes-Chapman's atmospheric debut, PANDORA, immerses the reader in the dangerous, mysterious world of ancient antiquities with prose that is elegant and teeming with visceral sensory detail. A marvelous debut—imaginative, ambitious, and begging to be savored." — Sarah Penner, New York Times bestselling author of The Last Apothecary
Steeped in mystery and rich in imagination, an exhilarating historical novel set in Georgian London where the discovery of a mysterious ancient Greek vase sets in motion conspiracies, revelations, and romance.
London, 1799. Dora Blake, an aspiring jewelry artist, lives with her odious uncle atop her late parents' once-famed shop of antiquities. After a mysterious Greek vase is delivered, her uncle begins to act suspiciously, keeping the vase locked in the store's basement, away from prying eyes—including Dora's. Intrigued by her uncle's peculiar behavior, Dora turns to young, ambitious antiquarian scholar Edward Lawrence who eagerly agrees to help. Edward believes the ancient vase is the key that will unlock his academic future; Dora sees it as a chance to establish her own name.
But what Edward discovers about the vase has Dora questioning everything she has believed about her life, her family, and the world as she knows it. As Dora uncovers the truth, she comes to understand that some doors are locked and some mysteries are buried for a reason, while others are closer to the surface than they appear.
A story of myth and mystery, secrets and deception, fate and hope, Pandora is an enchanting work of historical fiction as captivating and evocative as The Song of Achilles, The Essex Serpent, and The Miniaturist.
---
Susan Stokes-Chapman is a writer based in North Wales. She grew up in the Georgian city of Lichfield, before spending four years in the town of Aberystwyth and graduating with a BA in Education and English Literature and an MA in Creative Writing. Her debut novel PANDORA was published in the UK in January 2022 and became an instant #1 bestseller; the novel was previously shortlisted for the 2020 Lucy Cavendish Fiction Prize and longlisted for the Bath Novel Award. Twitter: @SStokesChapman, Instagram: sstokeschapman, www.susanstokeschapman.com
---
If you enjoy British historical fiction, now is your chance to "meet" two authors.