Even as it started, Rupert Holmes' event was humorous. Barbara Peters, owner of The Poisoned Pen, recently welcomed the author of Murder Your Employer: McMasters Guide to Homicide. You can order a signed copy through the Webstore. https://store.poisonedpen.com/item/1hgzL4GgOuXOFd65O0n0Yw
Here's the summary of Murder Your Employer.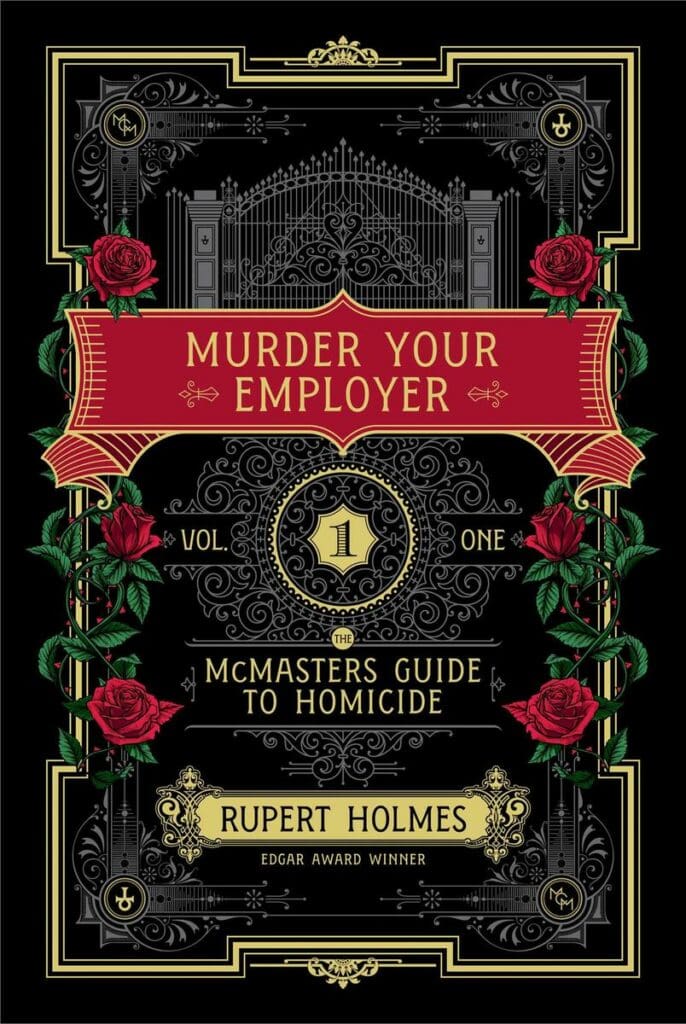 From the diabolical imagination of Edgar Award–winning novelist, playwright, and story-songwriter Rupert Holmes comes a devilish thriller with a killer concept: The McMasters Conservatory for the Applied Arts, a luxurious, clandestine college dedicated to the fine art of murder where earnest students study how best to "delete" their most deserving victim.
Who hasn't wondered for a split second what the world would be like if a person who is the object of your affliction ceased to exist? But then you've probably never heard of The McMasters Conservatory, dedicated to the consummate execution of the homicidal arts. To gain admission, a student must have an ethical reason for erasing someone who deeply deserves a fate no worse (nor better) than death. The campus of this "Poison Ivy League" college—its location unknown to even those who study there—is where you might find yourself the practice target of a classmate…and where one's mandatory graduation thesis is getting away with the perfect murder of someone whose death will make the world a much better place to live.
Prepare for an education you'll never forget. A delightful mix of witty wordplay, breathtaking twists and genuine intrigue, Murder Your Employer will gain you admission into a wholly original world, cocooned within the most entertaining book about well-intentioned would-be murderers you'll ever read.
Rupert Holmes's much celebrated career ranges from chart-topping story songs with surprising twists—"Escape (The Pina Colada Song)"—to Tony Award–winning whodunit musicals—The Mystery of Edwin Drood—Edgar Award–winning comedy-thrillers—Accomplice—and the Nero Wolfe Best American Mystery Novel nominated Where the Truth Lies, made into an Atom Egoyan motion picture starring Colin Firth and Kevin Bacon. Called "an American treasure" (Los Angeles Times), "a true Renaissance man" by Newsweek, "a comic genius" (Kirkus Reviews) and simply "a genius" (The Times, London), Rupert Holmes brings his wickedly clever storytelling talents to this outrageous and darkly comic mystery set in a secret, idyllic campus where students learn how to "do in others as you would have others do you in."
---
Rupert Holmes has received two Edgar Awards from the Mystery Writers of America, and multiple Tony® and Drama Desk Awards for his Broadway mystery musicals, including the book of Curtains and his sole creation, the Tony® Award–winning Best Musical The Mystery of Edwin Drood. His first novel, Where the Truth Lies, was nominated for a Nero Wolfe award for Best American Mystery Novel, was a Booklist Top Ten Debut Novel, and became a motion picture starring Colin Firth and Kevin Bacon. His second novel, Swing, was the first novel with its own original, clue-bearing musical score. He has adapted Agatha Christie, John Grisham, and R.L. Stine for the Broadway and international stage. His short stories have been anthologized in such collections as Best American Mystery Stories, Christmas at the Mysterious Bookshop,and On a Raven's Wing. Holmes's earliest story-songs were published in Ellery Queen's Mystery Magazine and  he is also the writer/vocalist of several Billboard Top 10 hits, including his Billboard #1 multi-platinum classic with a memorable twist-ending: "Escape (The Pina Colada Song)."
---
Enjoy the conversation with Rupert Holmes.