Where do stories come from? J. T. Ellison's latest thriller is It's One of Us. When Barbara Peters, owner of The Poisoned Pen, introduced Ellison, she mentioned that this was a personal book for the author. Guest host Nick Petrie pulled the story out of Ellison, and asked her about it. I think you'll be surprised. You'll have to watch the event to learn more. But, you can order a signed copy of It's One of Us through the Webstore. https://tinyurl.com/4kmz6usv
Here's the description of It's One of Us.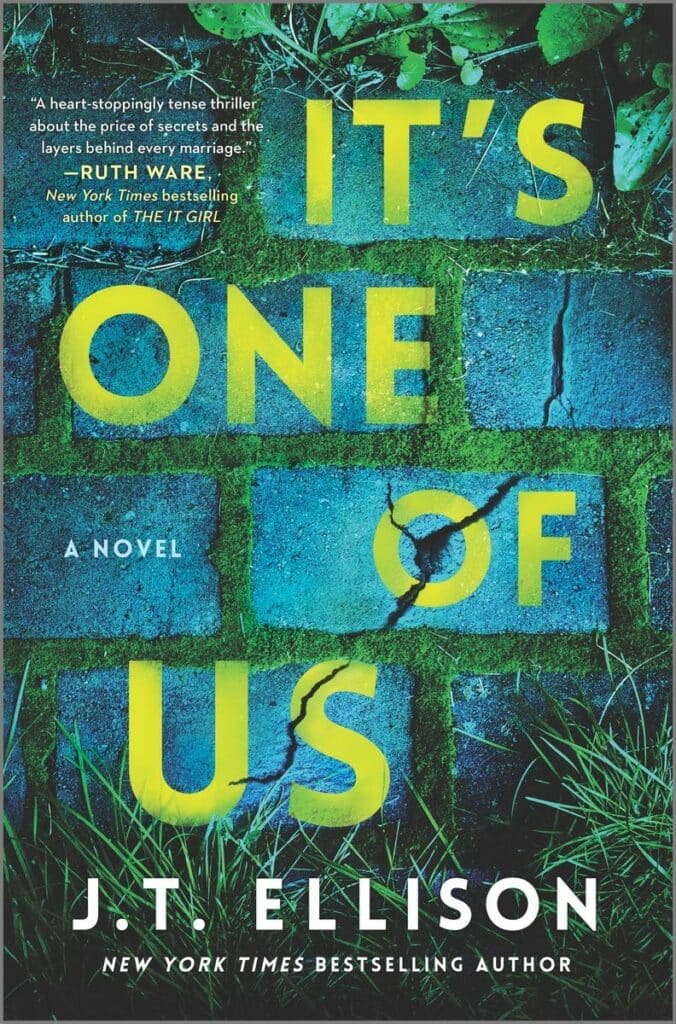 "A heart-stoppingly tense thriller about the price of secrets and the layers behind every marriage." —Ruth Ware, New York Times bestselling author of The Woman In Cabin 10
Everybody lies. Even the ones you think you know best of all . . .

Olivia Bender designs exquisite home interiors that satisfy the most demanding clients. But her own deepest desire can't be fulfilled by marble counters or the perfect rug. She desperately  wants to be a mother. Fertility treatments and IVF keep failing. And just when she feels she's at her lowest point, the police deliver shocking news to Olivia and her husband, Park.

DNA results show that the prime suspect in a murder investigation is Park's son. Olivia is relieved, knowing this is a mistake. Despite their desire, the Benders don't have any children. Then comes the confession. Many years ago, Park donated sperm to a clinic. He has no idea how many times it was sold—or how many children he has sired.

As the murder investigation goes deeper, more terrible truths come to light. With every revelation, Olivia must face the unthinkable. The man she married has fathered a killer. But can she hold that against him when she keeps such dark secrets of her own?

This twisting, emotionally layered thriller explores the lies we tell to keep a marriage together–or break each other apart . . .
---
J.T. Ellison is the New York Times and USA Today bestselling author of more than 25 novels, and the EMMY® award winning co-host of the literary show A WORD ON WORDS. With millions of books in print, her work has won critical acclaim, prestigious awards, and has been published in 28 countries. She lives in Nashville with her husband and twin kittens.
---
Here's the bio of Nick Petrie as well. Nick Petrie is the author of six novels in the Peter Ash series, most recently The Breaker. His debut, The Drifter, won both the ITW Thriller award and the Barry Award for Best First Novel, and was a finalist for the Edgar and the Hammett Awards. A husband and father, he lives in the Milwaukee area.
---
If you're interested in the book, you'll want to watch the event.