It was a standing room only audience for C.J. Box when he appeared at The Poisoned Pen to talk about his new Joe Pickett book, Storm Watch. Nick Petrie was guest host for the event. You can still find signed copies of Box's book in the Webstore. http://bit.ly/3Zvv3FU
Here's the description of Storm Watch.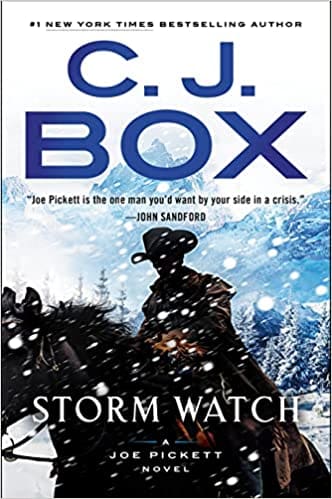 Wyoming Game Warden Joe Pickett investigates a mysterious death at a secret remote high-tech facility in this riveting new novel from #1 New York Times bestseller C.J. Box.


When a prominent University of Wyoming professor goes missing, authorities are stumped. That is, until Joe Pickett makes two surprising discoveries while hunting down a wounded elk on his district as an epic spring storm descends upon him. First, he finds the professor's vehicle parked on a remote mountainside. Then Joe finds the professor's frozen and mutilated body. When he attempts to learn more, his investigation is obstructed by federal agents, extremists, and Governor Colter Allen.
Nate Romanowski is rebuilding his falconry company—and financing this through crypto mining with the assistance of Geronimo Jones. He's then approached by a shadowy group of local militant activists that is gaining in power and influence, and demanding that Wyoming join other western states and secede from the union—by force, if necessary. They ask Nate to throw in with them, but he's wary. Should he trust them, or is he being set up?
    As a storm of peril gathers around them, Joe and Nate confront it in different ways—and maybe, for the first time, on opposite sides.
---
C. J. Box is the author of twenty-three Joe Pickett novels, eight stand-alone novels, and a story collection. He has won the Edgar, Anthony, Macavity, Gumshoe, and two Barry awards, as well as the French Prix Calibre .38, the Western Heritage Award for Literature, and two Spur Awards. An avid outdoorsman, Box has hunted, fished, hiked, ridden, and skied throughout Wyoming and the Mountain West. He is an executive producer of ABC TV's Big Sky and Joe Pickett on Spectrum Originals and Paramount+, both of which are based on his novels.
---
Here's Nick Petrie's bio as well. Nick Petrie is the author of six novels in the Peter Ash series, most recently The Breaker. His debut, The Drifter, won both the ITW Thriller award and the Barry Award for Best First Novel, and was a finalist for the Edgar and the Hammett Awards. A husband and father, he lives in the Milwaukee area.
---
Enjoy the discussion with C.J. Box and Nick Petrie.