Patrick Millikin recently welcomed Jordan Harper, author of Everybody Knows, as well as Robert Anglen from The Arizona Republic, for an event at The Poisoned Pen. Millikin recommends Everybody Knows for a description of Los Angeles as it is today. You can find signed copies in the Webstore. https://bit.ly/3XVQGPe
Here's the description of Everybody Knows.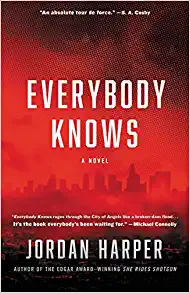 A fearless black-bag publicist exposes the belly of the L.A. beast in "one of the best LA noir novels I've ever read" (Attica Locke) from Edgar Award-winning author Jordan Harper.
A NYTBR Editors' Choice Selection
"Ingenious… I'd like to think Chandler himself might get a kick out of Everybody Knows. . . the LA hardboiled mystery form he largely created continues to chronicle a world even more fatally obsessed with images and false gods than he could ever have envisioned."?Maureen Corrigan, NPR/Fresh Air
Welcome to Mae Pruett's Los Angeles, where "Nobody talks. But everybody whispers." As a "black-bag" publicist tasked not with letting the good news out but keeping the bad news in, Mae works for one of LA's most powerful and sought-after crisis PR firms, at the center of a sprawling web of lawyers, PR flaks, and private security firms she calls "The Beast." They protect the rich and powerful and depraved by any means necessary.

After her boss is gunned down in front of the Beverly Hills Hotel in a random attack, Mae takes it upon herself to investigate and runs headfirst into The Beast's lawless machinations and the twisted systems it exists to perpetuate. It takes her on a roving neon joyride through a Los Angeles full of influencers pumped full of pills and fillers; sprawling mansions footsteps away from sprawling homeless encampments; crooked cops and mysterious wrecking crews in the middle of the night.

Edgar Award-winner Jordan Harper's EVERYBODY KNOWS is addicting and alarming, a "juggernaut of a novel" and "an absolute tour de force." It is what the crime novel can achieve in the modern age: portray the human lives at the center of vast American landscapes, and make us thrill at their attempts to face impossible odds.
Recommended by New York Times Book Review • NPR/Fresh Air • Wall Street Journal • Washington Post • LA Times •CrimeReads• Alta Online • Lit Hub• Kirkus Reviews• Publishers Weekly• NBC/TODAY and many more!
• An ABA January 2023 Indie Next List Pick •
"The book everybody's been waiting for" —Michael Connelly
"An absolute tour de force"—S. A. Cosby
"The best mystery novel I've read in years" —James Patterson
---
Jordan Harper is the Edgar-Award winning author of She Rides Shotgun and Love and Other Wounds. Born and educated in Missouri, he now lives in Los Angeles, where he works as a writer and producer for television.
---
Enjoy the conversation about LA noir.