Barbara Peters, the owner of The Poisoned Pen, welcomed Jane Harper back to the bookstore. The Australian author's current novel, Exiles, is the Hot Book of the Week. You can order the final Aaron Falk book through the Webstore. http://bit.ly/3jsmrke
Here's the summary of Exiles.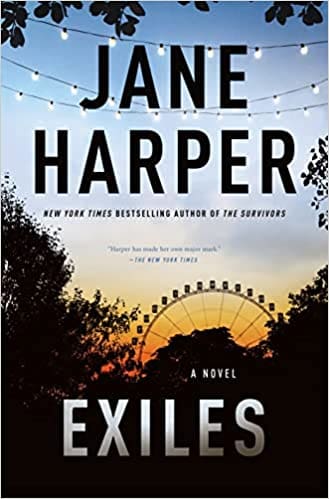 FROM NEW YORK TIMES BESTSELLING AND AWARD-WINNING AUTHOR JANE HARPER COMES EXILES, A CAPTIVATING MYSTERY ABOUT A MISSING MOTHER

"I love Jane Harper's Australia-based mysteries." —Stephen King
"Once again Harper proves that she is peerless in creating an avalanche of suspense with intimate, character-driven set pieces…Harper's legions of fans will exult in reading Exiles."
—David Baldacci, #1 New York Times bestselling author
Federal Investigator Aaron Falk is on his way to a small town deep in Southern Australian wine country for the christening of an old friend's baby. But mystery follows him, even on vacation.
This weekend marks the one-year anniversary of Kim Gillespie's disappearance. One year ago, at a busy town festival on a warm spring night, Kim safely tucked her sleeping baby into her stroller, then vanished into the crowd. No one has seen her since. When Kim's older daughter makes a plea for anyone with information about her missing mom to come forward, Falk and his old buddy Raco can't leave the case alone.
As Falk soaks up life in the lush valley, he is welcomed into the tight-knit circle of Kim's friends and loved ones. But the group may be more fractured than it seems. Between Falk's closest friend, the missing mother, and a woman he's drawn to, dark questions linger as long-ago truths begin to emerge. What would make a mother abandon her child? What happened to Kim Gillespie?
---
Jane Harper is the New York Times bestselling author of The Dry, Force of Nature, and The Lost Man. Jane previously worked as a print journalist in Australia and the UK and lives in Melbourne with her husband, daughter, and son.
---
Enjoy the conversation with Jane Harper and Barbara Peters.