Rita Zoey Chin's first novel is The Strange Inheritance of Leah Fern, although she's also the author of a memoir. You can find Chin's novel in the Web Store, https://bit.ly/3D3GVGP
Here's the description of The Strange Inheritance of Leah Fern.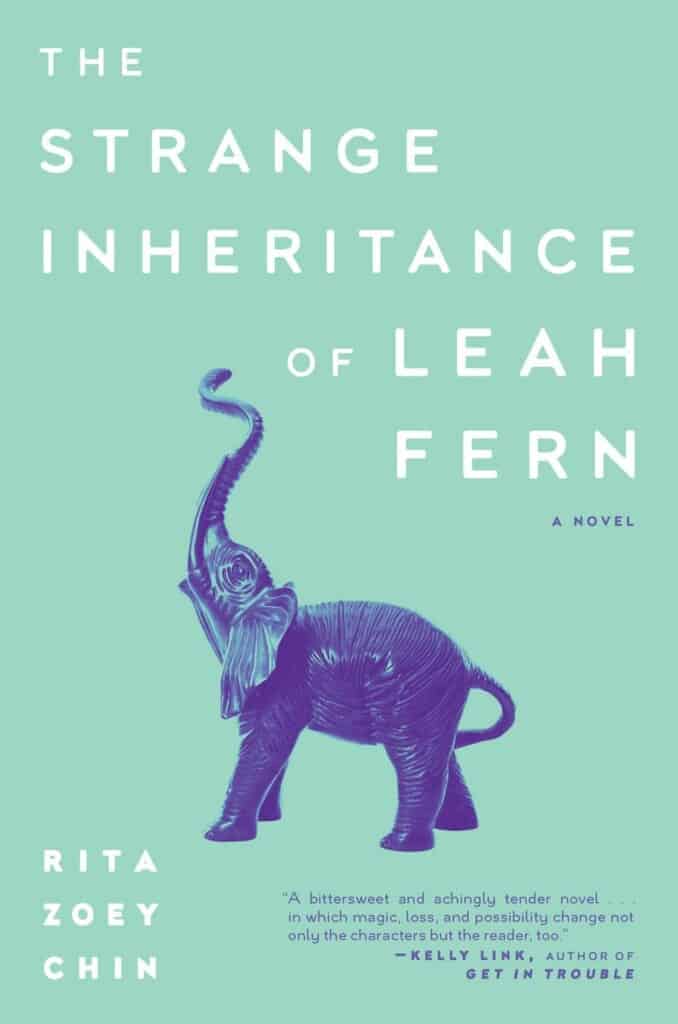 "The Strange Inheritance of Leah Fern is a bittersweet and achingly tender coming of age novel. Like V. E. Schwab and Audrey Niffenegger, Rita Zoey Chin is an expert guide to that territory in which magic, loss, and possibility change not only the characters but the reader, too." – Kelly Link, author of Get in Trouble

The luminous story of a fiercely lonely young woman's quest to uncover the truth behind her mother's disappearance . . .

When 6-year-old empath Leah Fern—once "The Youngest and Very Best Fortune Teller in the World"—is abandoned by her beautiful magician mother, she is consumed with longing for her mother's return.

Until something bizarre happens: On her 21st birthday Leah receives an inheritance from someone she doesn't even know, and finds herself launched on a journey of magical discovery. It's a voyage that will spiral across the United States, Canada, into the Arctic Circle and beyond—and help her make her own life whole by piecing together the mystery surrounding her mother's disappearance.

The Strange Inheritance of Leah Fern is an enchanting novel about the transcendent power of the imagination, the magic at the threshold of past and present, and the will it takes to love.
---
Heres Chin's short biography before the interview.
Rita Zoey Chin is the author of the widely praised memoir, Let the Tornado Come. She holds an MFA from the University of Maryland and is the recipient of a Katherine Anne Porter Prize, an Academy of American Poets Award, and a Bread Loaf scholarship.  She has taught at Towson University and at Grub Street in Boston. Her work has appeared in Guernica, Tin House, and Marie Claire. This is her first novel.
---
Michael Barson, Senior Publicity Executive at Melville House, recently interviewed Rita Zoey Chin for Bookreporter.com. The interview is reprinted here, with Barson's permission. You can find further information at https://bit.ly/3gcDlRR.
Interview: October 13, 2022
THE STRANGE INHERITANCE OF LEAH FERN, Rita Zoey Chin's debut novel, is a luminous coming-of-age story about a fiercely lonely young woman's quest to uncover the truth behind her mother's disappearance. In this interview conducted by Michael Barson, Senior Publicity Executive at Melville House, Chin talks about the differences between writing this book and her memoir, LET THE TORNADO COME IN; the aspects of the story that she couldn't grasp at first and how she finally got a handle on them; the one piece of advice she would give to aspiring novelists; and what readers can expect from her second novel.
Question: You've written a memoir and a number of acclaimed short stories, but THE STRANGE INHERITANCE OF LEAH FERN is your first novel. In what ways did you have to retool your skill set to approach this ambitious story?
Rita Zoey Chin: From a literary perspective, my considerations while writing my memoir and novel were actually quite similar, because both books are narrative-driven, and I tend to think cinematically when I write. I gave a lot of thought to building the narrative arc, as well as imagery (I'm always thinking about imagery), character development and voice.
But the experience of writing these books was vastly different. With my memoir, I wove a braided narrative extracted from decades of life events. That required distance from my life, an objective engagement with some of the profound things that have happened to me. Writing my novel, on the other hand, was kind of the inverse of that. While my memoir was a process of paring down, I had to build everything up from scratch in my novel. I was already starting at a distance, and so much of the writing involved getting quiet so that I could get closer and observe my characters in their natural habitats, sort of how you gingerly move toward a deer to catch its eye before it bounds off into the woods.
Q: "A work of literary excellence… Deeply philosophical yet full of magic." That is how one reviewer evaluated this book. How closely do you follow the reviews that this novel is just beginning to receive now?
RZC: Probably too closely! After sitting with this novel in my imagination for all these years, I'm eager for it to find its readers, and I'm especially grateful when someone connects with the book and takes the time to write a review. One reader who received an advance copy recently wrote that it was one of her favorite books of all time and that she felt as if I'd written it for her. That's the kind of feedback I hold onto as a reminder that the eight years I spent working on THE STRANGE INHERITANCE OF LEAH FERN were worth it. But it's a balancing act for me. When I retreat back into my writing cave to work on my next novel, I'll distance myself from reading reviews so that I can focus on the new story taking shape without all those outside voices in my head.
Q: When you were young, did you read any books that might have set you on the path to eventually writing THE STRANGE INHERITANCE OF LEAH FERN?
RZC: So many! One is THE ALMOST ANYTHING YOU MIGHT ASK ALMANAC, which actually appears in the novel. A compendium of superstitions, astrological profiles, drawings of wildflowers, descriptions of weather extremes, a thoughtful page dedicated to witches, and so much more, this book really lit up my imagination as a child and made me feel as if I were holding magic in my hands.
Speaking of magic, I was endlessly enchanted by THE WONDERFUL WIZARD OF OZ and CHARLIE AND THE CHOCOLATE FACTORY when I was young, and I think THE STRANGE INHERITANCE OF LEAH FERN is the result of how my mind was shaped by my love of those magical odysseys.
Q: When you were writing the novel, was there any element to the story that kept eluding you? And if so, how did you finally arrive at the solution?
RZC: Yes, Essie East's voice! For the longest time, I couldn't hear it. I knew she was this cranky, haunted, somewhat misanthropic but ultimately good person, but whenever it came time for her to speak, I either heard crickets or superimposed the wrong voice onto her. So I had to get really quiet — to look away — and then, slowly, she started to appear. I'd be in the shower, and suddenly I'd hear a line from her, and I'd run to my notebook, dripping water everywhere, and get the line down before it eluded me again. Interestingly, she became one of my favorite characters.
Jeannie Starr's story (Leah's mother) eluded me for even longer. It wasn't until my second draft that I understood her full story, and that understanding turned out to be key to the whole novel.
Q: The book received a starred review from the ALA's Booklist, which will likely be seen by every librarian in the country. Who do you perceive to be the book's primary audience? And is there a secondary one as well?
RZC: I think the book's primary audience will be people who, at some level, believe in magic. Outside of that, my hope is that this book has something for everyone — and in particular, anyone who has ever felt like a misfit, who has suffered loss, who is part of the LGBTQ+ community, and/or who appreciates a transformative journey — a spiral that moves both inward and out.
Q: If you were to address a room full of aspiring novelists who were about to embark on their first novel, what is the key lesson you'd like to impart based on your experience in writing THE STRANGE INHERITANCE OF LEAH FERN?
RZC: Be true, be true, be true! When I was writing THE STRANGE INHERITANCE OF LEAH FERN, I took well-meaning advice early on from someone I greatly admired (and still do), even though it ran counter to the most important aspects of my vision for the book. The result was a book that I wasn't happy with, one that took me years to rewrite. I think taking edits when they ring true is such an important and helpful part of the process, but if I've learned anything, it's that everything I write in a book has to ring true to me above all else. Once I finished the rewrite and my agent sent it out on submission, I was at peace. I thought, No matter what happens now, I wrote the book I wanted to write — I gave it my best. In an unpredictable, highly subjective industry, the freedom in that is priceless.
Q: Are you already laying out the plans for your second novel? If so, can you provide a clue to what its theme will be?
RZC: I am! It's still early days, but I can say that, like THE STRANGE INHERITANCE OF LEAH FERN, it lives in the realm of magical realism, though it will be a bit darker and lustier and will probably veer into scarier territory.