Barbara Peters, owner of The Poisoned Pen, recently welcomed popular author Jenn McKinlay to the bookstore to talk about her suitably spooky mystery, The Plot and the Pendulum. It's just perfect for Halloween with a spooky mansion, the connection to Edgar Allan Poe, a skeleton, a library, and a hidden room. There are signed copies of The Plot and the Pendulum in the Web Store. https://tinyurl.com/2p9ee2cy
Here's the summary of the latest Library Lover's Mystery, The Plot and the Pendulum.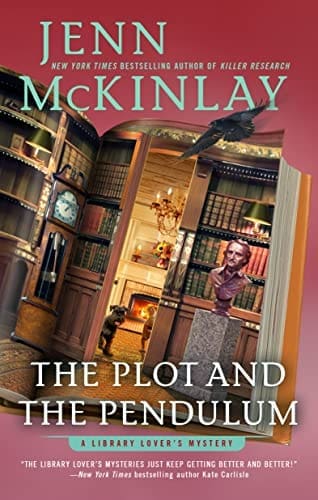 Halloween is approaching in Briar Creek, and things get spooky when a skeleton is found and connected to a decades-old cold case, in the newest Library Lover's Mystery from the New York Times bestselling author of Killer Research.
Library director Lindsey Norris is happy to learn the Briar Creek Public Library is the beneficiary of the Dorchester family's vast book collection. However, when Lindsey and the library staff arrive at the old Victorian estate to gather the books, things take a sinister turn. One of the bookcases reveals a secret passage, leading to a room where a skeleton is found, clutching an old copy of The Collected Works of Edgar Allan Poe.

Lindsey does a quick check of missing persons, using the distinctive 80s era clothing worn by the deceased to determine a time frame, and discovers that Briar Creek has an unsolved missing person's case from 1989. A runaway bride went missing just weeks after her wedding. No suspects were ever arrested and the cold case remains unsolved. Lindsey and the crafternoon crew decide that justice is overdue and set about solving the old murder mystery, using some novel ideas to crack the case.
---
Jenn McKinlay is the award-winning, New York Times, USA Today, and Publishers Weekly bestselling author of several mystery and romance series. Her work has been translated into multiple languages in countries all over the world. She lives in sunny Arizona in a house that is overrun with kids, pets, and her husband's guitars.
---
Conversations with Jenn McKinlay are always fun. Enjoy this one!