Candace Robb returned virtually to The Poisoned Pen to discuss the fourteenth Owen Archer mystery, A Fox in the Fold. Barbara Peters, owner of the bookstore, took the opportunity to discuss the cover designs, and historical mysteries and novels set in the medieval times. You can order a signed copy of A Fox in the Fold through the Web Store. https://bit.ly/3ErDTgP
Here's the summary of A Fox in the Fold.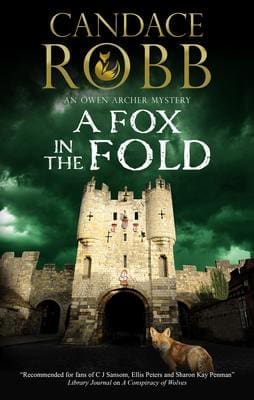 Owen Archer suspects an old adversary is on his tail as he seeks to solve the mystery surrounding a dead body found on the road to York.
"A standout . . . Robb reinforces her place among the top writers of medieval historicals" – Publishers Weekly Starred Review 

October, 1376. Owen Archer is summoned by sheriff Sir Ralph Hastings regarding a stripped and bloodied body discovered on the road north to York. Could it be connected to an attack on a carter and his labourers who were transporting stone destined for St Clement's Priory? The carter fled, but his men stayed to fight and are now missing. Is the victim one of them?

At first Owen believes the catalyst for murder and menace in York is the arrival of the political pariah William Wykeham, Bishop of Winchester. But he soon suspects that a formidable and skillful adversary from his past has arrived in the city, thrusting him and his family into grave danger, and his investigation becomes a race to uncover the truth before his old nemesis destroys all he holds dear.
---
Candace Robb has read and researched medieval history for many years, having studied for a Ph.D. in Medieval & Anglo-Saxon Literature. She divides her time between Seattle and the UK, frequently visiting York to research the series. She is the author of eleven previous Owen Archer mysteries and three Kate Clifford medieval mysteries.
---
If you're a fan of British history, you'll enjoy this conversation.