The nineteenth Cork O'Connor book by William Kent Krueger is Fox Creek. Barbara Peters, owner of the Poisoned Pen recently hosted Krueger for a live event at the store to talk about this book and the entire series. You'll want to pick this one up through the Web Store to get a signed copy. https://bit.ly/3KgKU4P
Here's the description of Fox Creek.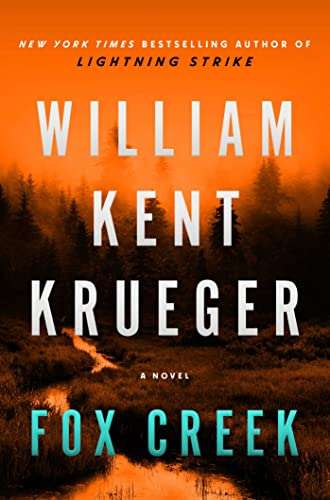 The latest in the New York Times bestselling Cork O'Connor Mystery Series from the "master storyteller" (Kristin Hannah, #1 New York Times bestselling author) follows Cork in a race against time to save his wife, a mysterious stranger, and an Ojibwe healer from bloodthirsty mercenaries.
The ancient Ojibwe healer Henry Meloux has had a vision of his death. As he walks the Northwoods in solitude, he tries to prepare himself peacefully for the end of his long life. But peace is destined to elude him as hunters fill the woods seeking a woman named Dolores Morriseau, a stranger who had come to the healer for shelter and the gift of his wisdom.
Meloux guides this stranger and his great niece, Cork O'Connor's wife, to safety deep into the Boundary Waters, his home for more than a century. On the last journey he may ever take into this beloved land, Meloux must do his best to outwit the deadly mercenaries who follow.
Meanwhile, in Aurora, Cork works feverishly to identify the hunters and the reason for their relentless pursuit, but he has little to go on. Desperate, Cork begins tracking the killers but his own skills as a hunter are severely tested by nightfall and a late season snowstorm. He knows only too well that with each passing hour time is running out. But his fiercest enemy in this deadly game of cat and mouse may well be his own deep self-doubt about his ability to save those he loves.
From "an author who never disappoints" (Bookreporter), this is another gripping and richly told addition to a masterful series.
---
William Kent Krueger is the New York Times bestselling author of This Tender Land, Ordinary Grace (winner of the Edgar Award for best novel), as well as nineteen acclaimed books in the Cork O'Connor mystery series, including Lightning Strike and Desolation Mountain. He lives in the Twin Cities with his family. Learn more at WilliamKentKrueger.com.
---
William Kent Krueger writes beautiful books. It's almost as much fun listening to him as reading his books. Enjoy!