Barbara Peters, owner of The Poisoned Pen, recently hosted a favorite at the bookstore, Rhys Bowen. There are signed copies of both the hardcover and paperback of Bowen's Where the Sky Begins available in the Web Store. https://tinyurl.com/2p9crc5n
Here's the description of Where the Sky Begins.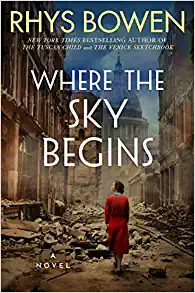 A woman's future is determined by fate and choice in a gripping WWII novel about danger, triumph, and second chances by the New York Times bestselling author of The Venice Sketchbook and The Tuscan Child.
London, 1940. Bombs fall and Josie Banks's world crumbles around her. Her overbearing husband, Stan, is unreachable, called to service. Her home, a ruin of rubble and ash. Josie's beloved tearoom boss has been killed, and Josie herself is injured, with nothing left and nowhere to go.
Evacuated to the English countryside, Josie ends up at the estate of the aristocratic Miss Harcourt, a reluctant host to the survivors of the Blitz. Awed as she is by the magnificent landscape, Josie sees opportunity. Josie convinces Miss Harcourt to let her open a humble tea shop, seeing it as a chance for everyone to begin again. When Josie meets Mike Johnson, a handsome Canadian pilot stationed at a neighboring bomber base, a growing intimacy brings her an inner peace she's never felt before. Then Stan returns from the war.
Now a threat looms larger than anyone imagined. And a dangerous secret is about to upend Josie's life again. Her newfound courage will be put to the test if she is to emerge, like a survivor, triumphant.
---
Rhys Bowen is the New York Times bestselling author of more than forty novels, including The Venice Sketchbook, Above the Bay of Angels, The Victory Garden, The Tuscan Child, and her World War II novel In Farleigh Field, the winner of the Left Coast Crime "Lefty" Award for Best Historical Mystery Novel and the Agatha Award for Best Historical Novel. Bowen's work has won twenty honors to date, including multiple Agatha, Anthony, and Macavity Awards. Her books have been translated into many languages, and she has fans around the world, including an online following of over two hundred thousand fans worldwide. A transplanted Brit, Bowen divides her time between California and Arizona. To learn more about the author, visit www.rhysbowen.com.
---
Enjoy the conversation as Rhys Bowen and Barbara Peters discuss trends in mysteries, World War II, and Bowen's books.