The Poisoned Pen recently welcomed eight authors for a virtual event, the contributors to the mystery anthology Hotel California. Don Bruns edited the collection, and these seven authors participated in the project: Andrew Child, Reed Farrel Coleman, Jennifer Dombush, Heather Graham, Rick Bleiweiss, Amanda Flower, and John Gilstrap. You can order copies of the books, signed by all the authors, through the Web Store. https://bit.ly/3OtATBK
Here's the description of Hotel California.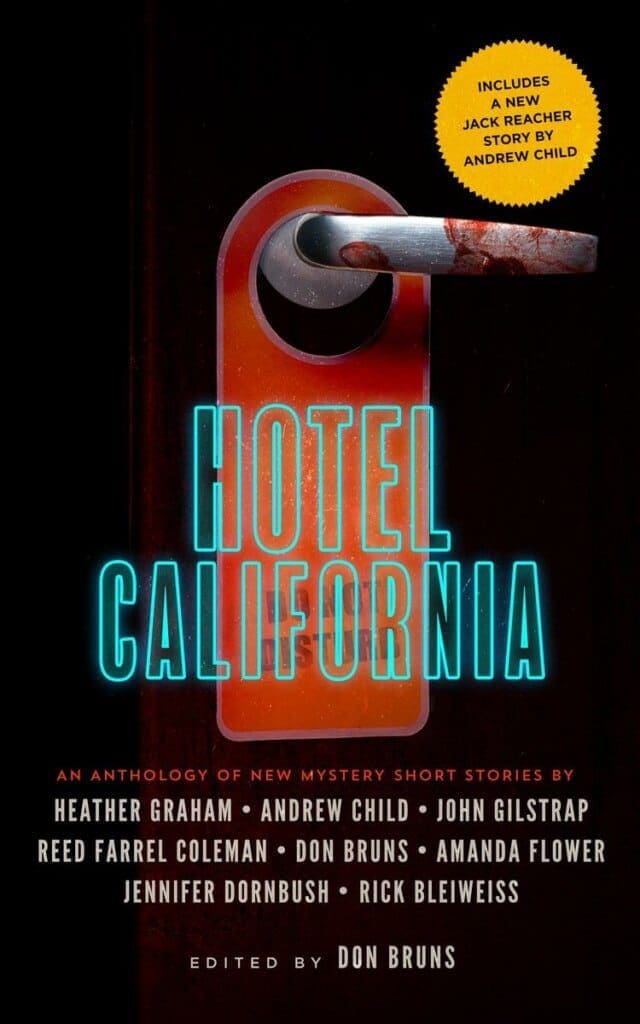 Featuring a new Jack Reacher story by Andrew Child!
A dangerous drifter, a hired gun, a grisly corpse—you never know who you'll run into at the Hotel California.
Eight deliciously talented mystery authors have lent their skills of crafting murder and suspense to this collection of gripping short stories. Each of these eight provocative tales is designed to entertain and mystify—and maybe even chill you to your core. Get lost in the wild imaginations of such New York Times bestselling writers as Andrew Child, Heather Graham, Reed Farrel Coleman, and John Gilstrap, plus authors Rick Bleiweiss, Jennifer Graeser Dornbush, Amanda Flower, and Don Bruns. From the titular tale "Hotel California" to a new, original Jack Reacher adventure, these stories have a little something for every mystery lover.
Go ahead. Check in, enjoy some room service, and stay until the very last tantalizing page. Just don't forget to search the closet or behind the curtains.
---
ROBERT B. PARKER was the author of seventy books, including the legendary Spenser detective series, the novels featuring Chief Jesse Stone, and the acclaimed Virgil Cole/Everett Hitch Westerns, as well as the Sunny Randall novels. Winner of the Mystery Writers of America Grand Master Award and long considered the undisputed dean of American crime fiction, he died in January 2010. REED FARREL COLEMAN, author of the New York Times-bestselling Robert B. Parker's The Hangman's Sonnet, has been called a "hard-boiled poet" by NPR's Maureen Corrigan and the "noir poet laureate" in The Huffington Post. He has published twenty-seven previous novels, including nine books in the critically acclaimed Moe Prager series, and most recently, What You Break featuring Gus Murphy. A four-time winner of the Shamus Award, he has also won the Anthony, Macavity, Barry, and Audie Awards. Coleman lives with his family on Long Island.
John Gilstrap is the New York Times bestselling author of Threat Warning (July, 2011), Hostage Zero, No Mercy, Nathan's Run, At All Costs, Even Steven, Scott Free and Six Minutes to Freedom. In addition, John has written four screenplays for Hollywood, adapting the works of Nelson DeMille, Norman McLean and Thomas Harris. Most recently, he has signed two movie deals for his books. He will write and co-produce the film adaptation of his book, Six Minutes to Freedom, and executive produce the film adaptation of Scott Free. A frequent speaker at literary events, John also teaches seminars on suspense writing techniques at a wide variety of venues, from local libraries to The Smithsonian Institution. Outside of his writing life, John is a renowned safety expert with extensive knowledge of explosives, hazardous materials, and fire behavior. He currently works as the director of safety for a large trade association in Washington, DC. John lives in Fairfax, VA.
Andrew Child was born in Birmingham, England, in May 1968. He went to school in St. Albans, Hertfordshire, and later attended the University of Sheffield where he studied English literature and drama. After graduation Andrew set up and ran a small independent theater company which showcased a range of original material to local, regional, and national audiences. Following a critically successful but financially challenging appearance at the Edinburgh Fringe Festival, Andrew moved into the telecommunications industry as a "temporary" solution to a short-term cash crisis. Fifteen years later, after carrying out a variety of roles including several which were covered by the UK's Official Secrets Act, Andrew became the victim/beneficiary of a widespread redundancy program. Freed once again from the straight jacket of corporate life, he took the opportunity to answer the question, what if?
Jennifer Dornbush is an accomplished screenwriter and penned the script for the film version of God Bless the Broken Road. This is her first novel. She lives in Los Angeles, CA.
Amanda Flower is the USA Today bestselling and Agatha Award-winning mystery author of the Amish Quilt Shop Mysteries and the Amish Candy Shop Mystery series. She also writes mysteries as USA Today bestselling author Isabella Alan. In addition to being an author, Amanda is a librarian in Northeast Ohio.
New York Times and USA Today bestselling author Heather Graham has written more than two hundred novels and novellas. She is a winner of the Romance Writers of America's Lifetime Achievement Award, an International Thriller Writers Silver Bullet Award and, in 2016, the ThrillerMaster award from International Thriller Writers. She is an active member of International Thriller Writers and Mystery Writers of America, and is the founder of The Slush Pile Players, an author band and theatrical group. An avid scuba diver, ballroom dancer, and mother of five, she still enjoys her South Florida home, but also loves to travel.
Rick Bleiweiss started his career in music as a rock performer, produced over fifty records, was a songwriter and record company senior executive, and worked with the Backstreet Boys, Kiss, Whitney Houston, and other industry legends. As a publishing company executive, he has acquired works by authors including James Clavell, Gabriel García Márquez, and others. In his latest creative endeavor, Rick has crafted the Pignon Scorbion mystery series. Follow Rick and Scorbion at www.RickBleiweiss.com 
---
Burns tried to talk with each author for about five minutes. Check it out.