Patrick King from The Poisoned Pen recently welcomed fantasy and science fiction author Jane Lindskold. She talked about her latest novel, Library of the Sapphire Wind, other books in her series, as well as the book she wrote with David Weber, A New Clan. There are copies of the books in the Web Store. https://bit.ly/3aQU9eL
Here's the summary of Library of the Sapphire Wind.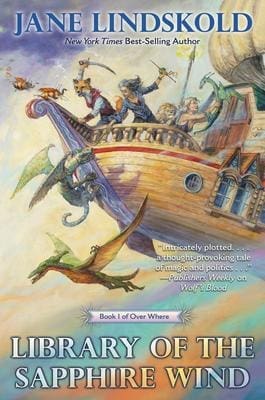 New fantasy from New York Times best-selling author delivers a cross-generational novel with adult and YA appeal
Instead of mentors, they got monsters . . . That's what Xerak, Vereez, and Grunwold think when three strange creatures shimmer into being within the circle of Hettua Shrine. Their conclusion is reasonable enough. After all, they've never seen humans before. As for Margaret Blake, Peg Gallegos, and Tessa Brown—more usually known as Meg, Peg, and Teg—they're equally astonished but, oddly enough, better prepared. Then there is the mysterious verse that Teg speaks as they arrive, words that seem to indicate that the Shrine must have been at least partially responding to the request made of it.
Despite doubts on all sides, the three unlikely mentors join forces with the three young "inquisitors" and venture out into the world Peg dubs "Over Where." First they must find the Library of the Sapphire Wind, destroyed years before. Will they find answers there, or is this only the first stage in their search?
 About OverWhere:
"Library of the Sapphire Wind is classic Lindskold… If you're looking for a well-written book with a fascinating cast of characters moving through an inventive and wondrous world, look no further."—The Magazine of Fantasy & Science Fiction
---
Jane Lindskold? is the award-winning, New York Times best-selling author of more than twenty-five novels. Lindskold has also written in collaboration with David Weber and Roger Zelazny. When she's not writing or reading, she's likely being ordered around by a variety of small animals. Lindskold lives in New Mexico.
---
Here's the description of A New Clan, written with David Weber.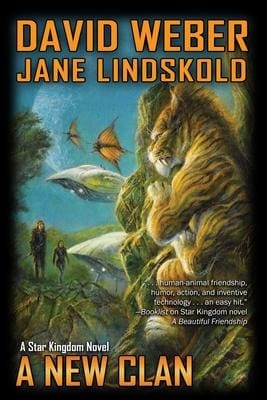 A NEW NOVEL FEATURING STEPHANIE HARRINGTON IN HONORVERSE PREQUEL SERIES
Sex! Drugs! Rock "˜n' Roll! And Treecats!
Freshly home from an internship on Manticore, teenaged Stephanie Harrington is up to her eyebrows in trouble.
There's the new treecat adoptee who needs to be kept from becoming a risk to the carefully guarded secret of just how smart the arboreal inhabitants of Sphinx really are.
There's the overeager journalist whose campaign to protect the treecats from exploitation as the newest, coolest pet on any planet could threaten the very creatures he seeks to defend.
And there's the mysterious rash of weird accidents that are plaguing Sphinx's younger inhabitants—including some of those nearest and dearest to Stephanie.
In trying to get enough proof to get the understaffed authorities of her pioneer planet to act, Stephanie will be called upon to attempt things she never imaged doing—including going undercover into the wilds of the late-night club scene, a realm where her faithful treecat guardian, Lionheart, cannot follow….
---
With more than eight million copies of his books in print and 33 titles on the New York Times bestseller list, David Weber is a science fiction powerhouse. In the vastly popular Honor Harrington series, the spirit of C.S. Forester's Horatio Hornblower and Patrick O'Brian's Master and Commander live on—into the galactic future. Books in the Honor Harrington and Honorverse series have appeared on 21 bestseller lists, including The Wall Street Journal, The New York Times, and USA Today. Additional Honorverse collaborations include the spin-off miniseries Manticore Ascendant with New York Time best-selling author Timothy Zahn, and with Eric Flint, Crown of Slaves and Cauldron of Ghosts contribute to Weber's illustrious list of New York Times and international bestsellers.
Best known for his spirited, modern-minded space operas, Weber is also the creator of the Oath of Swords fantasy series and the Dahak Saga, a science fiction and fantasy hybrid. Weber has also engaged in a steady stream of best-selling collaborations: the Starfire series with Steve White; the Empire of Man series with John Ringo; the Multiverse series with Linda Evans and Joelle Presby; and the Ring of Fire series with Eric Flint.
---
Enjoy the conversation between Jane Lindskold and Patrick King.