Martin Edwards takes readers back to the Lake District after a break of seven years. He recently spoke with Barbara Peters, owner of The Poisoned Pen, about his latest book, The Girl They All Forgot. You can order it through the Web Store. https://bit.ly/3QhBLvG

Here's the summary of The Girl They All Forgot.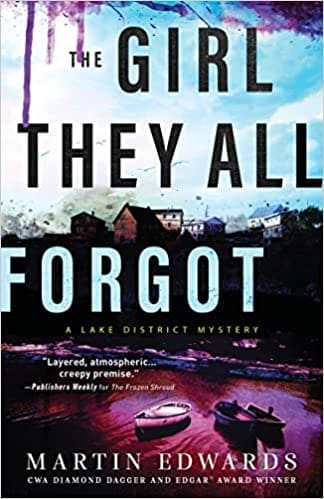 CWA Dagger and Edgar award-winning author Martin Edwards takes readers back to The Lake District after seven years with a cunningly layered mystery that Publishers Weekly calls a "skillful combination of procedural and whodunnit."
"Life is certainly nasty, brutish, and short?at least for most of the characters in Edwards's much-awaited new installment, set on the edge of England's Lake District."? First Clue
What happened to Ramona Smith?
History always repeats itself. After a father and son commit suicide on the same day, twenty years apart, DCI Hannah Scarlet, and her Cold Cases Division reopen the investigation of Ramona Smith, a woman who disappeared twenty-one years ago. Desperate to finally find answers, Hannah and her team chase leads as meandering as the shoreline. As the body count rises, the Cold Cases Division must unravel the loves of those on The Crooked Shore before another murder plot unfolds.
---
Martin Edwards is the recipient of the CWA 2020 Diamond Dagger Award for sustained excellence in his crime writing career and his significant contribution to the genre. His most recent novel, set in 1930, is Gallows Court. His seventh and most recent Lake District Mystery is The Dungeon House. Martin is also a well-known crime fiction critic, and series consultant to the British Library's Crime Classics. His ground-breaking study of the genre between the wars, The Golden Age of Murder, was warmly reviewed around the world, and won the Edgar, Agatha, H.R.F. Keating and Macavity awards. His The Story of Classic Crime in 100 Books has been nominated for five awards. A well-known commentator on crime fiction, he has edited 37 anthologies and published diverse non-fiction books, including a study of homicide investigation, Urge to Kill. An expert on crime fiction history, he is archivist of both the Crime Writers' Association and the Detection Club. He was elected eighth President of the Detection Club in 2015, is current Chair of the CWA, and posts regularly to his blog, 'Do You Write Under Your Own Name?'
---
If you've missed this series, you'll want to catch up with Martin Edwards.