While Barbara Peters, owner of The Poisoned Pen, welcomed Chris Pavone for a virtual event for the bookstore, author Karin Slaughter was the special guest host. Pavone's latest international thriller is Two Nights in Lisbon. There are more signed copies of the book available through the Web Store. https://bit.ly/3sXRWUD
Here's the description of Two Nights in Lisbon.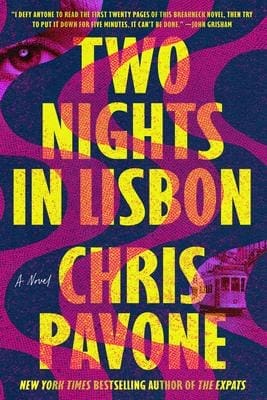 Tautly wound and expertly crafted, Two Nights in Lisbon is a riveting thriller about a woman under pressure, and how far she will go when everything is on the line.

"I defy anyone to read the first twenty pages of this breakneck novel, then try to put it down for five minutes. This is smart suspense at its very best."—#1 New York Times bestselling author John Grisham
You think you know a person . . .
Ariel Pryce wakes up in Lisbon, alone. Her husband is gone—no warning, no note, not answering his phone. Something is wrong.
She starts with hotel security, then the police, then the American embassy, at each confronting questions she can't fully answer: What exactly is John doing in Lisbon? Why would he drag her along on his business trip? Who would want to harm him? And why does Ariel know so little about her new—much younger—husband?
The clock is ticking. Ariel is increasingly frustrated and desperate, running out of time, and the one person in the world who can help is the one person she least wants to ask.
With sparkling prose and razor-sharp insights, bestselling author Chris Pavone delivers a stunning and sophisticated international thriller that will linger long after the surprising final page.
---
Chris Pavone is the author of The Paris Diversion, The Travelers, The Accident, and The Expats. His novels have appeared on the bestseller lists of The New York Times, USA Today, and The Wall Street Journal; have won both the Edgar and Anthony awards; are in development for film and television; and have been translated into two dozen languages. Chris grew up in Brooklyn, graduated from Cornell, and worked as a book editor for nearly two decades. He lives in New York City and on the North Fork of Long Island with his family.
---
This might be a conversation about living internationally, and thrillers, but there's a great deal of humor. Enjoy!