John Charles from The Poisoned Pen recently welcomed Tori Eldridge for a live event at the bookstore. Eldridge talks about her background and her new book, Dance Among the Flames. You can order a signed copy through the Web Store. https://bit.ly/38p01uA
Here's the description of Dance Among the Flames.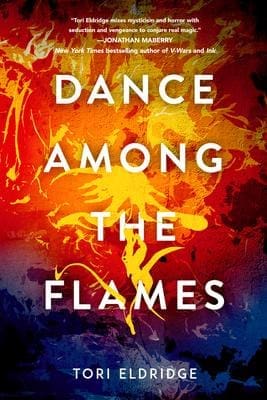 Passion. Horror. Betrayal.
From the national bestselling author of the Lily Wong thriller series comes a "stunningly original" (F. Paul Wilson) dark journey into Brazilian mysticism about a desperate mother who rises from the slums to embrace Quimbanda magic amid her quest for the ultimate revenge. Across forty years, three continents, and a past incident in 1560 France, Serafina Olegario tests the boundaries of love, power, and corruption as she fights to escape her life of poverty and abuse.
Serafina's quest begins in Brazil when she's possessed by the warrior goddess Yansã, who emboldens her to fight yet threatens to consume her spirit. Fueled by power and enticed by Exú, an immortal trickster and intermediary to the gods, Serafina turns to the seductive magic of Quimbanda. It's dangerous to dance in the fire. But when you come from nothing, you have nothing to lose.
---
Tori Eldridge is the national bestselling author and Anthony, Lefty, and Macavity Awards finalist of the Lily Wong mystery thriller series—The Ninja Daughter, The Ninja's Blade, and The Ninja Betrayed. Her shorter works appear in the inaugural reboot of Weird Tales magazine and horror, dystopian, and other literary anthologies. Her horror screenplay The Gift—which inspired Dance Among the Flames—earned a semi-finalist spot for the Academy Nicholl Fellowship.
 
Before writing, Tori performed as an actress, singer, dancer on Broadway, television, and film, and earned a 5th degree black belt in To-Shin Do ninja martial arts. She is of Hawaiian, Chinese, Norwegian descent and was born and raised in Honolulu where she graduated from Punahou School with classmate Barack Obama. Tori's deep interest in world culture and religions has prompted her to visit nine countries, including Brazil.
---
Enjoy the conversation with Tori Eldridge.