William Maz' debut thriller, The Bucharest Dossier, sold out of the signed copies at The Poisoned Pen. You can still order an unsigned copy, though. https://tinyurl.com/4r64bmx6 Barbara Peters, owner of the bookstore welcomed Maz for many reasons, but she's always happy to introduce readers to a debut author.
Here's the summary of The Bucharest Dossier.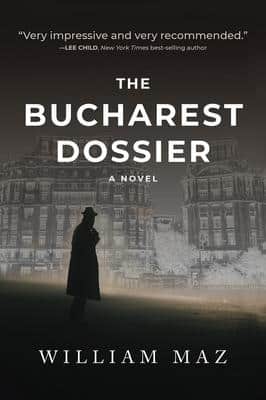 Chanticleer International Book Awards 2020 Grand Prize Winner in Global Thrillers

Bill Hefflin is a man apart—apart from life, apart from his homeland, apart from love
At the start of the 1989 uprising in Romania, CIA analyst Bill Hefflin—a disillusioned Romanian expat—arrives in Bucharest at the insistence of his KGB asset, code-named Boris. As Hefflin becomes embroiled in an uprising that turns into a brutal revolution, nothing is as it seems, including the search for his childhood love, which has taken on mythical proportions.
With the bloody events unfolding at blinding speed, Hefflin realizes the revolution is manipulated by outside forces, including his own CIA and Boris—the puppeteer who seems to be pulling all the strings of Hefflin's life.
The Bourne Identity Meets John le Carre's The Spy Who Came In from the Cold
---
Born in Bucharest, Romania, William Maz emigrated to the U.S. as a child. He is a graduate of Harvard University and Mount Sinai School of Medicine. Following a residency in anesthesiology at Yale, he practiced medicine, and during that time, he developed a passion for writing fiction. He studied writing at Harvard, the New School, and The Writer's Studio in New York City, and is now writing full time. William is married to a surgeon and he divides his time between Pennsylvania and New York City. The Bucharest Dossier is his debut novel.
---
Meet William Maz, author of The Bucharest Dossier.