No Accident is Steven Havill's 25th Posadas County mysteries. Havill recently appeared in person at The Poisoned Pen to talk about his latest book. There are signed copies of No Accident available through the Web Store. https://bit.ly/3uYL3Tn
Here's the description of No Accident.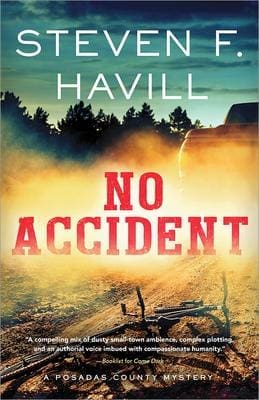 Good cops have no use for coincidence
When a driver slams his pickup truck—twice—into a tandem bike being ridden by Carlos Guzman and his fiancée, Tasha, in Briones, California, it's more than a simple hit-and-run; the driver clearly intended to harm them. Undersheriff Estelle Reyes-Guzman gets the call with the news of her son's accident and wastes no time racing to his side. She is greeted by Police Captain Eddie Mitchell, formerly of Posadas County, who allows Estelle to "consult" on the investigation—but only to a point.
While Carlos struggles with critical injuries, an employee at the bike shop where Carlos bought the tandem is found shot dead in a dumpster—the same man who had borrowed the truck that mowed down Carlos and Tasha. The local cops aren't convinced there's any connection between the two crimes. Not a believer in coincidence, Estelle pursues every possible angle with a cop's determination to solve the case, and a mother's resolve to keep her son safe at any cost.
---
Steven F. Havill lives with his wife of fifty-three years, Kathleen, in New Mexico. He is the author of thirty-two novels, taught secondary schools for 25 years, and recently earned an AAS degree in gunsmithing.
---
There is no sound for the first 4 minutes and 5 seconds of the virtual event. They do realize that after a few minutes, and they start over. So, hang in there with Steven F. Havill and Barbara Peters, owner of The Poisoned Pen.