When Blood Lies is the seventeenth Sebastian St. Cyr novel by C.S. Harris. Barbara Peters, owner of The Poisoned Pen, has read all the books, and she spoke with Harris about the individual mysteries and larger issues in Sebastian St. Cyr's life and family. You can catch up with the books by ordering a signed copy of When Blood Lies through the Web Store. https://bit.ly/3JsG42J
Here's the description of When Blood Lies.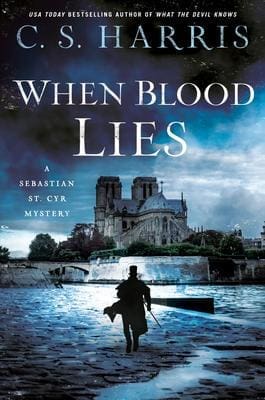 Sebastian St. Cyr, Viscount Devlin, has spent years unraveling his family's tragic history. But the secrets of his past will come to light in this gripping new historical mystery from the USA Today bestselling author of What the Devil Knows.
March, 1815. The Bourbon King Louis XVIII has been restored to the throne of France, Napoleon is in exile on the isle of Elba, and Sebastian St. Cyr, Viscount Devlin, and his wife, Hero, have traveled to Paris in hopes of tracing his long-lost mother, Sophie, the errant Countess of Hendon. But his search ends in tragedy when he comes upon the dying Countess in the wasteland at the tip of the ÃŽle de la Cité. Stabbed—apparently with a stiletto—and thrown from the bastions of the island's ancient stone bridge, Sophie dies without naming her murderer.
Sophie had been living in Paris under an assumed name as the mistress of Maréchal Alexandre McClellan, the scion of a noble Scottish Jacobite family that took refuge in France after the Forty-Five Rebellion. Once one of Napoleon's most trusted and successful generals, McClellan has now sworn allegiance to the Bourbons and is serving in the delegation negotiating on behalf of France at the Congress of Vienna. It doesn't take Sebastian long to realize that the French authorities have no interest in involving themselves in the murder of a notorious Englishwoman at such a delicate time. And so, grieving and shattered by his mother's death, Sebastian takes it upon himself to hunt down her killer. But what he learns will not only shock him but could upend a hard-won world peace.
---
C. S. Harris is the USA Today bestselling author of more than twenty-five novels, including the Sebastian St. Cyr Mysteries; as C. S. Graham, a thriller series coauthored by former intelligence officer Steven Harris; and seven award-winning historical romances written under the name Candice Proctor.
---
Enjoy the conversation with C.S. Harris and Barbara Peters.