One Last Chance is Jeffrey Siger's twelfth book in the Chief Inspector Andreas Kaldis series. The book is available from The Poisoned Pen as a paperback with signed bookplates, or as a hardcover, with limited signed editions. You can find copies through the Web Store. https://bit.ly/3uaPUSh
Jeffrey Siger talks about the location of his latest mystery, Ikaria, with Barbara Peters, owner of The Poisoned Pen. Here's the description of One Last Chance.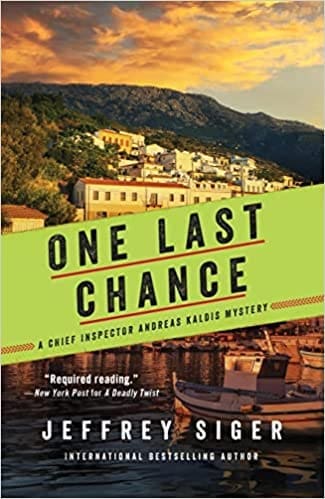 When Chief Inspector Andreas Kaldis's longtime assistant, Maggie, returns to her ancestral home on Ikaria for her 104-year-old grandmother's funeral, she quickly realizes not only was Yiayia likely murdered, but that a series of other long-lived Ikariots had recently died under the same suspicious circumstances. Back in Athens, Andreas and his chief detective Yianni pursue a smuggling and protection ring embedded in the Greek DEA, and its possible involvement in the assassination of an undercover cop.
But then Maggie and Yianni uncover a connection between their respective leads in the elder-killings on Ikaria and the DEA corruption case, and they realize that there are international intrigues far more dangerous at play than anyone had imagined.
---
Jeffrey Siger was born and raised in Pittsburgh, Pennsylvania, practiced law at a major Wall Street law firm, and later established his own New York City law firm where he continued as one of its name partners until giving it all up to write full-time among the people, life, and politics of his beloved Mykonos. The Mykonos Mob is the tenth novel in his internationally best-selling and award nominated Chief Inspector Andreas Kaldis series, following up on An Aegean April, Santorini Caesars, Devil in Delphi, Sons of Sparta, Mykonos After Midnight, Target: Tinos, Prey on Patmos, Assassins of Athens, and Murder in Mykonos.
The New York Times described Jeffrey Siger's novels as "thoughtful police procedurals set in picturesque but not untroubled Greek locales," and named him as Greece's thriller writer of record. The Greek Press called his work "prophetic," Eurocrime described him as a "very gifted American author…on a par with other American authors such as Joseph Wambaugh or Ed McBain," and the City of San Francisco awarded him its Certificate of Honor citing that his "acclaimed books have not only explored modern Greek society and its ancient roots but have inspired political change in Greece." He now lives in Greece.
---
If you're a fan of the series, or, if you're interested in Greece, you'll enjoy this conversation.