David Rosenfelt returns for a Poisoned Pen virtual event to talk about Citizen K-9. Of course, when Barbara Peters, owner of the bookstore, talks with Rosenfelt, you'll get a discussion of dogs as well. You can still order a signed copy of Citizen K-9 through the Web Store. https://bit.ly/3w0ClpM
Here's the summary of Citizen K-9.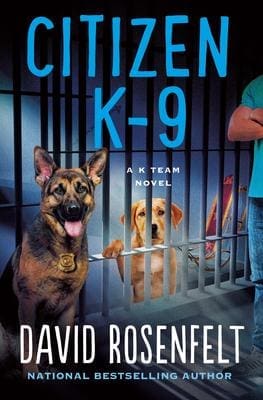 In Citizen K-9, bestselling author David Rosenfelt masterfully blends mystery with dogs and humor to create an investigative team that readers will be rooting for book after book.
The Paterson Police Department has created a cold case division, and they want to hire the private investigators known as the K Team to look into the crimes. After all, Corey Douglas and his K-9 partner, German shepherd Simon Garfunkel, recently retired from the force. Plus, another K Team member, Laurie Collins, used to be a cop as well.
Their first cold case hits home for the K Team. A decade ago, at Laurie's tenth high school reunion, two of their friends simply… vanished. At the time Laurie had just left the force, and Corey was in a different department, so they had no choice but to watch from the sidelines. With no leads, the case went cold.
As the team starts to delve deeper into the events leading up to that night—reopening old wounds along the way—the pieces start to come together. But someone wants to stop them from uncovering the truth behind the disappearance, by any means necessary.
---
DAVID ROSENFELT is the Edgar-nominated and Shamus Award-winning author of more than twenty Andy Carpenter novels, including One Dog Night, Collared, and Deck the Hounds; its spinoff series, The K-Team; the Doug Brock thriller series, which starts with Fade to Black; and stand-alone thrillers including Heart of a Killer and On Borrowed Time. Rosenfelt and his wife live in Maine with an ever-changing pack of rescue dogs. Their epic cross-country move with 25 of these dogs, culminating in the creation of the Tara Foundation, is chronicled in Dogtripping.
---
If you're a fan of dogs or David Rosenfelt's books, you'll enjoy this conversation.