Evidently, there was a small problem with the opening of the virtual event with author Rick Bleiweiss. That's okay. Jump into the video when you have a chance to listen to a fascinating conversation with Barbara Peters, owner of The Poisoned Pen. Bleiweiss' historical mystery is Pignon Scorbion & the Barbershop Detectives. You can order a copy of the book through the Web Store. https://bit.ly/3vV1Vg4
Here's the description of Pignon Scorbion & the Barbershop Detectives.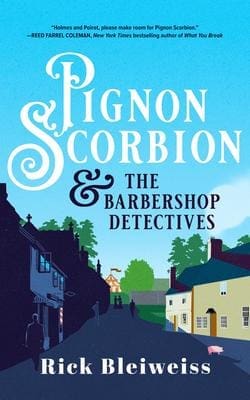 For fans of Sherlock Holmes and Agatha Christie's Hercule Poirot, author Rick Bleiweiss's quirky new detective and ensemble cast of characters set against the backdrop of small-town England in the 1910s will feel both comfortingly familiar and thrillingly new.
The year is 1910, and in the small and seemingly sleepy English market town of Haxford, there's a new police Chief Inspector. At first, the dapper and unflappable Pignon Scorbion strikes something of an odd figure among the locals, who don't see a need for such an exacting investigator. But it isn't long before Haxford finds itself very much in need of a detective.
Luckily, Scorbion and the local barber are old acquaintances, and the barbershop employs a cast of memorable characters who—together with an aspiring young ace reporter for the local Morning News—are nothing less than enthralled by the enigmatic new police Chief Inspector.
Investigating a trio of crimes whose origins span three continents and half a century, Pignon Scorbion and his "tonsorial sleuths" interview a parade of interested parties, but with every apparent clue, new surprises come to light. And just as it seems nothing can derail Scorbion's cool head and almost unerring nose for deduction, in walks Thelma Smith—dazzling, whip-smart, and newly single.
Has Pignon Scorbion finally met his match?
---
Rick Bleiweiss started his career in music as a rock performer, producer of over fifty records, songwriter, and record company senior executive, and worked with Clive Davis, Melissa Etheridge, the Backstreet Boys, Kiss, U2, Whitney Houston, the BeeGees, and other industry legends.
Since 2006 as a publishing company executive, he has acquired works by bestselling and award-winning authors including James Clavell, Gabriel García Márquez, Rex Pickett, Catherine Coulter, and Nicholas Sansbury Smith, among others.
In his latest creative endeavor, Rick has crafted the Pignon Scorbion historical mystery series—blending his love of the past with the twisty deliciousness of a whodunit.
Follow Rick and Scorbion at www.RickBleiweiss.com
---
Enjoy the conversation, and the introduction to Rick Bleiweiss.