Rhys Bowen hadn't written a Molly Murphy mystery in five years. She's been concentrating on Her Royal Spyness and standalones. But, Rhys' daughter, Clare Broyles, had an idea for a new Molly Murphy book. The result is Wild Irish Rose. The two authors recently appeared for a live event at The Poisoned Pen to talk about their book. There are signed copies of Wild Irish Rose available through the Web Store. https://tinyurl.com/4p4h8mpw
Here's the description of Wild Irish Rose.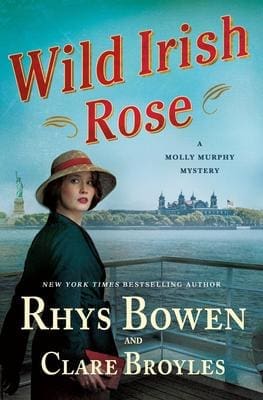 New York Times bestselling author Rhys Bowen, now writing in partnership with her daughter, Clare Broyles, transports and enthralls readers through the incomparable Molly Murphy Sullivan. Wild Irish Rose is the next novel in this beloved mystery series, a cause for celebration for readers and critics alike.
New York, 1907: Now that she's no longer a private detective—at least not officially—Molly Murphy Sullivan is looking forward to a time of settled tranquility with friends and family. Back in New York, where her own story began, Molly decides to accompany some friends to Ellis Island to help distribute clothing to those in need. This journey quickly stirs up memories for Molly. When you're far from home and see people from your country, every face looks like a family member.
That evening Molly's policeman husband, Daniel, is late returning home. He comes with a tale to tell: there was a murder on Ellis Island that day, and the main suspect is the spitting image of Molly. The circumstances are eerily similar to when Molly herself arrived on Ellis Island, and she can't help but feel a sense of fate. Molly was meant to be there that day so that she can clear this woman's name.
---
RHYS BOWEN is the New York Times bestselling author of the Anthony Award- and Agatha Award-winning Molly Murphy mysteries, the Edgar Award-nominated Evan Evans series, the Royal Spyness series, and several stand-alone novels including In Farleigh Field. Born in England, she lives in San Rafael, CA.
CLARE BROYLES, who is Rhys Bowen's daughter, is a teacher and a musician. She has worked as a composer and arranger in the theater for both Arizona Theater Company and Childsplay and was nominated for an Arizone 'Zoni' theater award. Clare is married to a teacher and they have three children.
---
Join Rhys Bowen and Clare Broyles as they talk about their book. (The first minute or so of the sound is bad, but hang in there. The event itself sounds fine.)