Murder at the Porte de Versailles is the twentieth Aimee Leduc Investigation novel by Cara Black. Barbara Peters, owner of The Poisoned Pen, recently hosted Black for the discussion of this book. There will be signed copies available, so you can order them through the Web Store. https://bit.ly/3KsWR6H
Here's the description of Murder at the Porte de Versailles.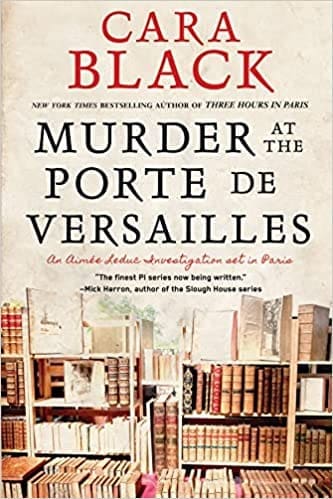 This riveting 20th installment entangles Parisian private investigator Aimée Leduc in a dangerous web of international spycraft and terrorist threats in Paris's 15th arrondissement.
November 2001: in the wake of 9/11, Paris is living in a state of fear. For Aimée Leduc, November is bittersweet: the anniversary of her father's death and her daughter's third birthday fall on the same day. A gathering for family and friends is disrupted when a bomb goes off at the police laboratory—and Boris Viard, the partner of Aimée's friend Michou, is found unconscious at the scene of the crime with traces of explosives under his fingernails.
Aimée doesn't believe Boris set the bomb. In an effort to prove this, she battles the police and his own lab colleagues, collecting conflicting eyewitness reports. When a member of the French secret service drafts Aimée to help investigate possible links to an Iranian Revolutionary guard and fugitive radicals who bombed Interpol in the 1980s, Aimée uncovers ties to a cold case of her father's.
As Aimée scours the streets of the 15th arrondissement trying to learn the truth, she has to ask herself if she should succumb to pressure from Chloe's biological father and move them out to his farm in Brittany. But could Aimée Leduc ever leave Paris?
---
Cara Black is the author of twenty books in the New York Times bestselling Aimée Leduc series as well as the thriller Three Hours in Paris. She has received multiple nominations for the Anthony and Macavity Awards, and her books have been translated into German, Norwegian, Japanese, French, Spanish, Italian, and Hebrew. She lives in San Francisco with her husband and son and visits Paris frequently.
---
Let Cara Black take you back to 2001 in Paris. Enjoy the virtual event.