For some reason, it seems so appropriate that Robert Dugoni's The Silent Sisters is set in Moscow. Charles Jenkins' third adventure finds him on a Russian kill list. You can find signed copies of the hardcover, or unsigned paperbacks in the Web Store. https://bit.ly/3M64fGJ
Here's the description of The Silent Sisters.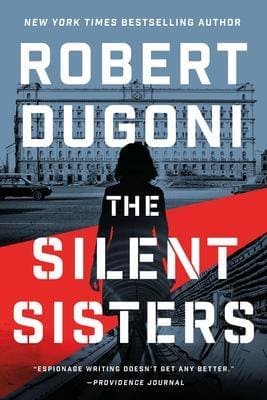 An Amazon Charts, Washington Post, and Wall Street Journal bestselling series.
In this pulse-racing thriller by the New York Times bestselling author of The Last Agent, an American sleeper cell in Russia goes silent—and it's one man's duty to find them.
After a harrowing escape from Russian agents on his last mission, Charles Jenkins thinks he's finally done with the spy game. But then the final two of the seven sisters—American assets who have been deep undercover in Russia for decades—cut off all communication with their handlers. Are they in hiding after detecting surveillance? Or have they turned and become double agents? It's Jenkins's duty to find out, but he's been added to a Russian kill list. It will require all of Jenkins's knowledge of spycraft—and an array of disguises—to return to the country undetected.
But plans go awry his first night in Moscow when Jenkins gets involved in an altercation that ends in the death of the son of one of Russia's most powerful organized crime leaders. Pursued by mafia henchmen, Russian agents, and a particularly dogged Moscow police detective, Jenkins is determined to track down the final two sisters and get them to America—or die trying. As various forces close in, Jenkins fears this time he might've pushed his luck too far.
---
Robert Dugoni is the critically acclaimed New York Times, Wall Street Journal, Washington Post, and Amazon Charts bestselling author of the Tracy Crosswhite series, which has sold more than seven million books worldwide. He is also the author of the bestselling Charles Jenkins series; the bestselling David Sloane series; the stand-alone novels The 7th Canon, Damage Control, The World Played Chess, and The Extraordinary Life of Sam Hell, Suspense Magazine's 2018 Book of the Year, for which Dugoni won an AudioFile Earphones Award for narration; and the nonfiction exposé The Cyanide Canary, a Washington Post best book of the year. He is the recipient of the Nancy Pearl Book Award for fiction and a three-time winner of the Friends of Mystery Spotted Owl Award for best novel set in the Pacific Northwest. He is a two-time finalist for the Thriller Awards and the Harper Lee Prize for Legal Fiction, as well as a finalist for the Silver Falchion Award for mystery and the Mystery Writers of America Edgar Awards. His books are sold in more than twenty-five countries and have been translated into more than two dozen languages. Visit his website at www.robertdugonibooks.com.
---
Barbara Peters, owner of The Poisoned Pen, talks with Robert Dugoni about his trilogy. Dugoni introduces those who haven't read the books to the background of this series.