Lars Kepler recently appeared for The Poisoned Pen, talking about the eighth book in the Killer Instinct series, The Mirror Man. Brad Thor acted as guest host, leading the discussion with the two authors who write as Lars Kepler. There are copies of The Mirror Man available through the Web Store. But, you don't have to have read any of the previous books to read The Mirror Man. https://bit.ly/3u94qKM
Here is the description of The Mirror Man.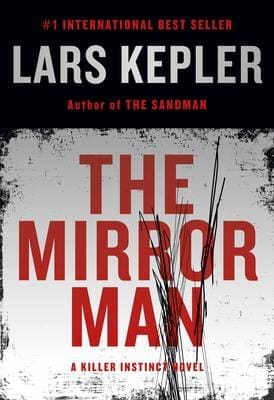 #1 INTERNATIONAL BEST SELLER "¢ Detective Joona Linna is on the trail of a kidnapper who targets teenage girls and makes their worst nightmares a reality.

"Dark, disturbing, and chillingly relentless. Picture Hannibal Lecter sitting down to channel Stieg Larsson and then dial it way, way up!" —Brad Thor, #1 New York Times best-selling author of Black Ice
Sixteen-year-old Jenny Lind is kidnapped in broad daylight on her way home from school and thrown into the back of a truck. She's taken to a dilapidated house, where she and other girls face horrors far beyond their worst nightmares. Though they're desperate to escape, their captor foils everyone of their attempts.

Five years later, Jenny's body is found hanging in a playground, strung up with a winch on a rainy night. As the police are scrambling to find a lead in the scant evidence, Detective Joona Linna recognizes an eerie connection between Jenny's murder and a death declared a suicide years before. And when another teenage girl goes missing, it becomes clear to Joona that they're dealing with a serial killer—and his murderous rampage may have just begun.
---
LARS KEPLER is the pseudonym of the critically acclaimed husband-and-wife team Alexandra Coelho Ahndoril and Alexander Ahndoril. Their number one internationally best-selling Killer Instinct series has sold more than 15 million copies in forty languages. The Ahndorils were both established writers before they adopted the pen name Lars Kepler and have each published several acclaimed novels. They live in Stockholm, Sweden. Translated by Alice Menzies.
---
Brad Thor says he's going to try not to give spoilers. Enjoy the conversation with Lars Kepler.