Of course, Barbara Peters, owner of The Poisoned Pen, is happy that Dean Koontz' latest book, Quicksilver, is entirely set in Arizona. Koontz introduces his character, Quinn Quicksilver, in conversation with Peters. There are signed copies of Quicksilver available through the Web Store. https://bit.ly/32I8Fla
Here's the description of Quicksilver.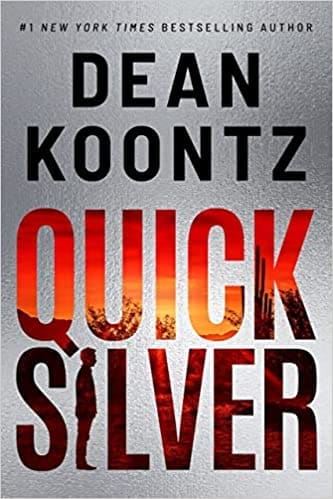 #1 New York Times bestselling master of suspense Dean Koontz takes a surprising and exhilarating road trip with a man in pursuit of his strange past—mile by frightening mile.
Quinn Quicksilver was born a mystery—abandoned at three days old on a desert highway in Arizona. Raised in an orphanage, never knowing his parents, Quinn had a happy if unexceptional life. Until the day of "strange magnetism." It compelled him to drive out to the middle of nowhere. It helped him find a coin worth a lot of money. And it practically saved his life when two government agents showed up in the diner in pursuit of him. Now Quinn is on the run from those agents and who knows what else, fleeing for his life.
During a shoot-out at a forlorn dude ranch, he finally meets his destined companions: Bridget Rainking, a beauty as gifted in foresight as she is with firearms, and her grandpa Sparky, a romance novelist with an unusual past. Bridget knows what it's like to be Quinn. She's hunted, too. The only way to stay alive is to keep moving.
Barreling through the Sonoran Desert, the formidable trio is impelled by that same inexplicable magnetism toward the inevitable. With every deeply disturbing mile, something sinister is in the rearview—an enemy that is more than a match for Quinn. Even as he discovers within himself resources that are every bit as scary.
---
Internationally bestselling author Dean Koontz was only a senior in college when he won an Atlantic Monthly fiction competition. He has never stopped writing since. Koontz is the author of seventy-nine New York Times bestsellers, fourteen of which rose to #1, including One Door Away from Heaven, From the Corner of His Eye, Midnight, Cold Fire, The Bad Place, Hideaway, Dragon Tears, Intensity, Sole Survivor, The Husband, Odd Hours, Relentless, What the Night Knows, and 77 Shadow Street. He's been hailed by Rolling Stone as "America's most popular suspense novelist," and his books have been published in thirty-eight languages and have sold over five hundred million copies worldwide. Born and raised in Pennsylvania, he now lives in Southern California with his wife, Gerda, their golden retriever, Elsa, and the enduring spirits of their goldens Trixie and Anna. For more information, visit his website at www.deankoontz.com.
---
Enjoy the conversation with Dean Koontz and Barbara Peters.