Don't you love discovering debut authors through The Poisoned Pen? The Appeal, Janice Hallett's debut, is an epistolary novel. Author Hank Phillippi Ryan was guest host, along with The Poisoned Pen's owner, Barbara Peters, for the recent virtual event featuring Hallett. There are signed bookplates for those who order a copy of The Appeal. https://bit.ly/3fXBGft
Here's the description of this unconventional novel, The Appeal.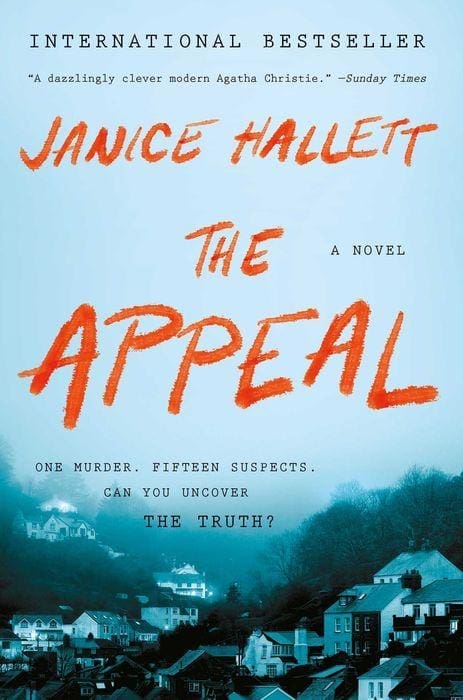 INTERNATIONAL BESTSELLER
Perfect for fans of Ruth Ware and Lisa Jewell, this "dazzlingly clever" (The Sunday Times, London) murder mystery follows a community rallying around a sick child—but when escalating lies lead to a dead body, everyone is a suspect.
The Fairway Players, a local theatre group, is in the midst of rehearsals when tragedy strikes the family of director Martin Hayward and his wife Helen, the play's star. Their young granddaughter has been diagnosed with a rare form of cancer, and with an experimental treatment costing a tremendous sum, their fellow castmates rally to raise the money to give her a chance at survival.
But not everybody is convinced of the experimental treatment's efficacy—nor of the good intentions of those involved. As tension grows within the community, things come to a shocking head at the explosive dress rehearsal. The next day, a dead body is found, and soon, an arrest is made. In the run-up to the trial, two young lawyers sift through the material—emails, messages, letters—with a growing suspicion that a killer may be hiding in plain sight. The evidence is all there, between the lines, waiting to be uncovered.
A wholly modern take on the epistolary novel, The Appeal is a "daring…clever, and funny" (The Times, London) debut for fans of Richard Osman and Lucy Foley.
---
Janice Hallett is a former magazine editor, award-winning journalist, and government communications writer. She wrote articles and speeches for, among others, the Cabinet Office, Home Office, and Department for International Development. Her enthusiasm for travel has taken her around the world several times, from Madagascar to the Galapagos, Guatemala to Zimbabwe, Japan, Russia, and South Korea. A playwright and screenwriter, she penned the feminist Shakespearean stage comedy NetherBard and cowrote the feature film Retreat. She lives in London and The Appeal is her first novel.
---
Enjoy the virtual event with Janice Hallett.