Some of you might only know P.J. Tracy as the author of the Monkeewrench series. But, Desolation Canyon is the second book in her Detective Margaret Nolan series, following Deep Into the Dark. Desolation Canyon is also the Hot Book of the Week at The Poisoned Pen. You can order copies of Tracy's books, including signed copies of Desolation Canyon, through the Web Store. https://bit.ly/3Av3eT8
Here's the description of Desolation Canyon.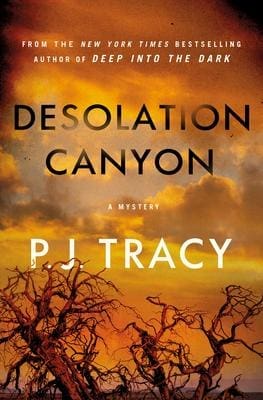 P.J. Tracy "seems to have found her literary sweet spot" (New York Times Book Review) with her dazzling new series, and in Desolation Canyon, fans get a deeper look into the complex characters who call Los Angeles home.
LAPD Detective Margaret Nolan is struggling to move forward after the death of her brother in Afghanistan and taking a life in the line of duty. Her stoic parents offer little support "" they refuse to address anything difficult, and she's afraid their relationship is eroding beyond the point of recovery.
The days off are the hardest, because they give Margaret time to think. A moment of weakness leads to cocktails with a colleague—an attraction she knows could be dangerous —at the luxurious Hotel Bel-Air bar. A stroll through the grounds leads to a grim discovery beneath the surface of Swan Lake: the body of a successful attorney who made his fortune in international trade.
It initially appears to be death by misadventure, but the case is anything but straightforward. As a series of shocking revelations emerge, Nolan finds herself confronting a sinister cabal that just might destroy her and everyone she loves.
---
P. J. Tracy is the pseudonym of Traci Lambrecht, bestselling and award winning author of the Monkeewrench series. Lambrecht and her mother, P. J., wrote eight novels together as P. J. Tracy before P. J. passed away in 2016. Lambrecht has since continued the Monkeewrench series solo. She spent most of her childhood painting and showing Arabian horses, and graduated with a Russian Studies major from St. Olaf College in Northfield, Minnesota, where she also studied voice. She now lives outside Minneapolis.