Michael Robotham is based in Australia, so who knows what time it was there when The Poisoned Pen's virtual event appeared there. Robotham appeared to discuss his latest novel, When You Are Mine. There are copies available through the Web Store. https://bit.ly/3t5o9ud
Here's the description of When You Are Mine.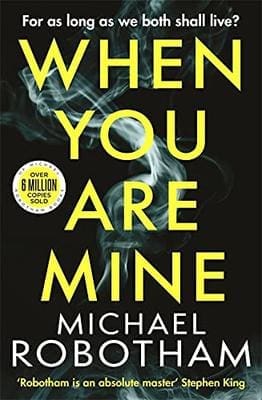 From the multi-million-copy bestselling author behind The Secrets She Keeps, a major BBC series, comes a gripping new standalone thriller

Philomena McCarthy has defied the odds and become a promising young officer with the Metropolitan Police despite being the daughter of a notorious London gangster. Called to the scene of a domestic assault, she rescues a young woman, Tempe Brown, the girlfriend of a decorated detective. The incident is hushed up, but Phil has unwittingly made a dangerous enemy with powerful friends.
Determined to protect each other, the two women strike up a tentative friendship. Tempe is thoughtful and sweet and makes herself indispensable to Phil, but sinister things keep happening and something isn't quite right about the stories Tempe tells. When a journalist with links to Phil's father and to the detective is found floating in the Thames, Phil doesn't know where to turn, who to blame or who she can trust.
---
Enjoy Barbara Peters' discussion with Michael Robotham as they talk about the book, and as they digress.