Nicholas Meyer brings back Sherlock Holmes and Dr. Watson in The Return of the Pharaoh, an adventure that takes Holmes to Egypt. He appeared for a recent virtual event for The Poisoned Pen, hosted by Barbara Peters, owner of the bookstore, and Will Thomas, author of the Barker/Llewelyn mysteries. You can find Meyer's books in the Web Store. https://bit.ly/3ov8vEK
Here's the summary of The Return of the Pharaoh.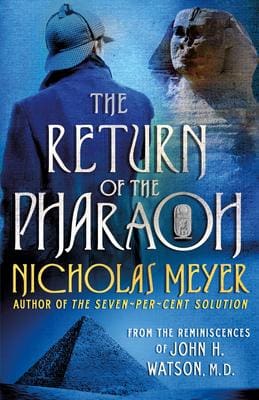 In Nicholas Meyer's The Return of the Pharaoh, Sherlock Holmes returns in an adventure that takes him to Egypt in search of a missing nobleman, a previously undiscovered pharaoh's tomb, and a conspiracy that threatens his very life.
With his international bestseller, The Seven Per Cent Solution, Nicholas Meyer brought to light a previously unpublished case of Sherlock Holmes that reinvigorated the world's interest in the first consulting detective. Now, many years later, Meyer is given exclusive access to Dr. Watson's unpublished journal, wherein he details a previously unknown case.
In 1910, Dr. John Watson travels to Egypt with his wife Juliet. Her tuberculosis has returned and her doctor recommends a stay at a sanitarium in a dry climate. But while his wife undergoes treatment, Dr. Watson bumps into an old friend–Sherlock Holmes, in disguise and on a case. An English Duke with a penchant for egyptology has disappeared, leading to enquiries from his wife and the Home Office.
Holmes has discovered that the missing duke has indeed vanished from his lavish rooms in Cairo and that he was on the trail of a previous undiscovered and unopened tomb. And that he's only the latest Egyptologist to die or disappear under odd circumstances. With the help of Howard Carter, Holmes and Watson are on the trail of something much bigger, more important, and more sinister than an errant lord.
---
NICHOLAS MEYER is the author three previous Sherlock Holmes novels, including The Seven-Per-Cent Solution, which was on the New York Times bestseller list for a year. He's a screenwriter and film director, responsible for The Day After, Time After Time, as well as Star Trek II: The Wrath of Khan, Star Trek IV: The Voyage Home, and Star Trek VI: The Undiscovered Country among many others. A native of New York City, he lives in Santa Monica, California.
---
The virtual event includes a slide show featuring Egypt. Enjoy the discussion and the slide show.