Lynne Truss' latest Constable Twitten mystery is Psycho By the Sea. She returns virtually to The Poisoned Pen to discuss that book, Psycho By the Sea. You can order the book, and it comes with a signed bookplate. You can find Truss' books in the Web Store. https://bit.ly/3opCBJB
Here's the description of Psycho By the Sea.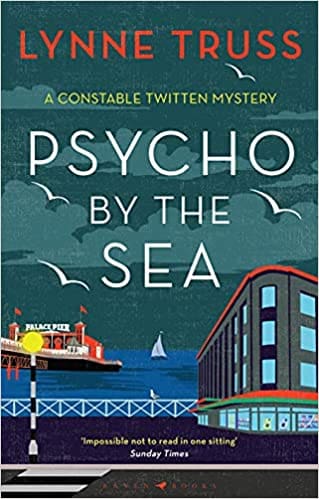 In the latest installment of this charming and quirky series, a trio of detectives are faced with the arrival of an escaped criminal with an unlikely penchant for boiling the heads of policemen.
It's September in the British beach town of Brighton, and the city is playing host to weeks of endless rain and some brand new villains.
A trusted member of a local gang has disappeared part way through planning a huge heist; a violent criminal obsessed with boiling the heads of policemen has escaped a local prison, and at Gosling's department store an American researcher has been found dead in the music section.
Inspector Steine has other things on his mind "" since the triumphant conclusion to his last case, Steine has so many awards and invitations coming his way that he has had to take on a secretary "" but Sergeant Brunswick and Constable 'Clever Clogs' Twitten are both on the case. If only they could work out just who is behind these dastardly acts…
---
Lynne Truss is a columnist, writer and broadcaster whose book on punctuation Eats, Shoots & Leaves was an international bestseller. She has written extensively for radio, and is the author of six previous novels, as well as a non-fiction account (Get Her Off the Pitch!) of her four years as a novice sportswriter for The Times. On radio, she is currently engaged in writing a continuing sequence of short stories for Radio 4 entitled Life at Absolute Zero. Her columns have appeared in the Listener, The Times, the Sunday Telegraph and Saga. She lives in Sussex and London with two dogs.
---
Enjoy the conversation between Lynne Truss and Barbara Peters, owner of The Poisoned Pen.