Dennis Palumbo has worked with Barbara Peters and Poisoned Pen Press for the years of the Daniel Rinaldi series. One of The Poisoned Pen's recent virtual events featured Palumbo and Peters talking about Rinaldi and his latest adventures in Panic Attack. You can find copies of Panic Attack, and the other Daniel Rinaldi books, in the Web Store. https://bit.ly/3tRYpjc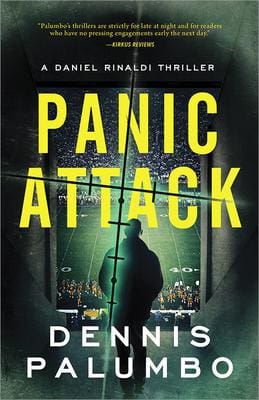 Here's the summary of Panic Attack.
A shooter takes deadly aim, and throws a city into panic
Psychologist Daniel Rinaldi is no stranger to trauma. A survivor of not one, but two attempts on his life by a deranged killer, the therapist also counsels trauma patients in his private practice, and contracts with the Pittsburgh Police to help victims of violent crime cope with their experience. When a sports mascot is gunned down mid-field by a sniper at a college football game he attends, Rinaldi becomes an accidental yet integral part of the investigation. To begin with, the victim in the costume is not the person who was supposed to be wearing it.
When the actual "Teasdale Tiger" hears the news, he suffers a crippling panic attack and calls on Rinaldi to talk him through it. From there, Rinaldi seems to be in all the wrong places at all the wrong times, as the sniper continues his killing spree. Meeting with resistance from members of the Pittsburgh Police force and taking dangerous risks in pursuit of the killer, Rinaldi puts his career and his life in harm's way as he races to find a connection between the victims before the shooter strikes again.
---
Formerly a Hollywood screenwriter, Dennis Palumbo is now a licensed psychotherapist in private practice. He's the author of a mystery collection, From Crime to Crime, and his short fiction has appeared in Ellery Queen's Mystery Magazine, The Strand, and elsewhere. His Daniel Rinaldi series includes Mirror Image, Fever Dream, Night Terrors, Phantom Limb, Head Wounds, and Panic Attack.
---
Here's the conversation between Dennis Palumbo and Barbara Peters.