If Barbara Peters, owner of The Poisoned Pen, is surprised by a crime in a mystery, it's unusual. And, Lee Goldberg, author of Gated Prey, was able to surprise her. Goldberg and Matt Witten, author of The Necklace, were the guest authors for a recent virtual event. You can find copies of both books in the Web Store. https://store.poisonedpen.com/
Here is the summary of Gated Prey.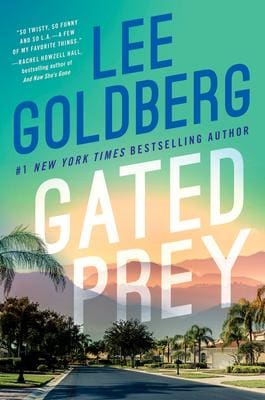 A simple sting operation takes a violent and unexpected turn for Detective Eve Ronin in a gripping thriller by #1 New York Times bestselling author Lee Goldberg.
Los Angeles County Sheriff's detective Eve Ronin and her soon-to-retire partner, Duncan Pavone, are running a 24-7 sting in a guard-gated enclave of palatial homes in Calabasas. Their luxury McMansion is a honey trap, set to lure in the violent home invaders terrorizing the community. The trap works, leaving three intruders dead, a body count that nearly includes Eve and Duncan.
Eve's bosses are eager to declare the case closed, but there are too many unanswered questions for her to let go. Was the trap actually for her, bloody payback for Eve's very public takedown of a clique of corrupt deputies? Or is there an even deadlier secret lurking behind those opulent gates? Eve's refusal to back down and her relentless quest for the truth make her both the hunter…and the prey.
---
Lee Goldberg is a two-time Edgar Award and two-time Shamus Award nominee and the #1 New York Times bestselling author of more than forty novels. He has also written and/or produced many TV shows, including Diagnosis Murder, SeaQuest, and Monk, and he is the cocreator of the Mystery 101 series of Hallmark movies. As an international television consultant, he has advised networks and studios in Canada, France, Germany, Spain, China, Sweden, and the Netherlands on the creation, writing, and production of episodic television series. You can find more information about Lee and his work at www.leegoldberg.com.
---
Matt Witten's The Necklace is summarized below.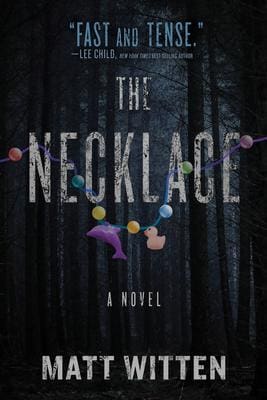 The clock ticks down in a heart-pounding crusade for justice
Susan Lentigo's daughter was murdered twenty years ago—and now, at long last, this small-town waitress sets out on a road trip all the way from Upstate New York to North Dakota to witness the killer's execution.
On her journey she discovers shocking new evidence that leads her to suspect the condemned man is innocent—and the real killer is still free. Even worse, her prime suspect has a young daughter who's at terrible risk. With no money and no time to spare, Susan sets out to uncover the truth before an innocent man gets executed and another little girl is killed.
But the FBI refuses to reopen the case. They—and Susan's own mother—believe she's just having an emotional breakdown. Reaching deep, Susan finds an inner strength she never knew she had. With the help of two unlikely allies—a cynical, defiant teenage girl and the retired cop who made the original arrest—Susan battles the FBI to put the real killer behind bars. Will she win justice for the condemned man—and her daughter—at last?
Perfect for fans of Karin Slaughter and Harlan Coben
Optioned for film—with Leonardo DiCaprio attached as producer.
---
Matt Witten, a graduate of Amherst and Brandeis Universities, is a TV writer, novelist, playwright and screenwriter. His television writing includes such shows as House, Pretty Little Liars, and Law & Order. His TV scripts have been nominated for an Emmy and two Edgars, and he has written four mystery novels, winning a Malice Domestic award for best debut novel. He has also written stage plays and for national magazines.
The Necklace has been optioned for film by Appian Way and Cartel Pictures, with Leonardo DiCaprio attached as producer.
---
Without spoilers, enjoy the conversation with Lee Goldberg and Matt Witten.